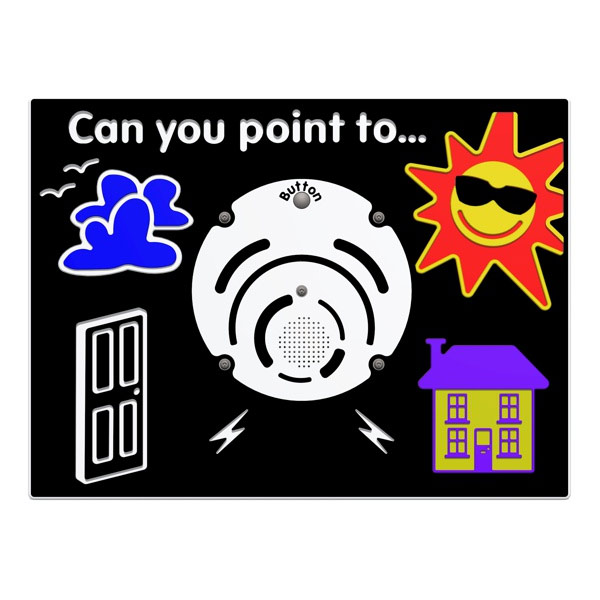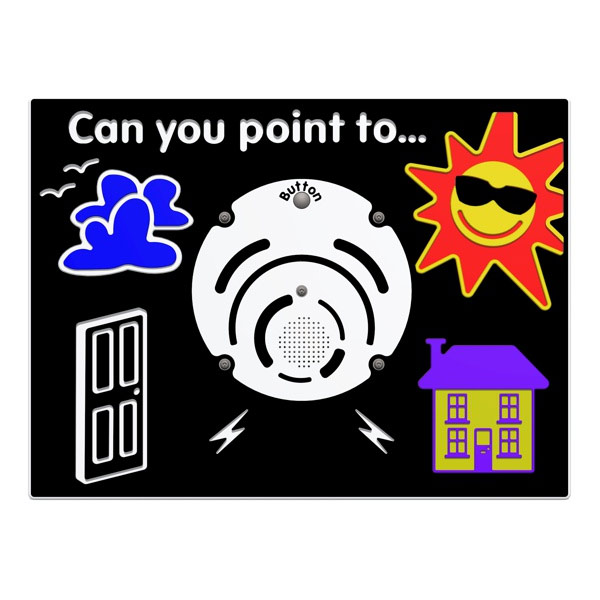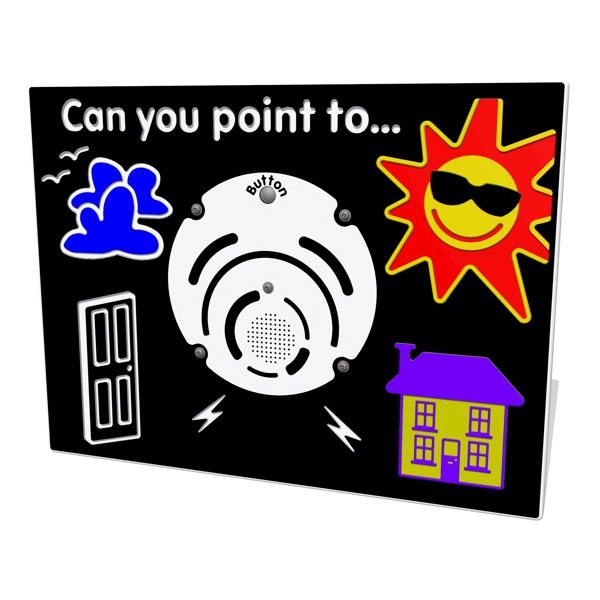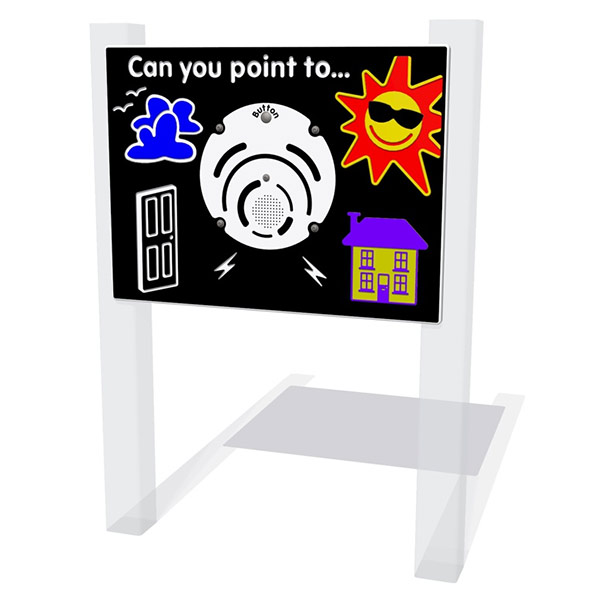 Description
The PlayTronic Surroundings Play Panel is a fun activity panel which has a random sequence of questions that it asks the children... "Can you point to a tree" "Can you point the clouds" "Can you point to the sky..." The addition of electronic sounds to panels adds another dimension and interaction between the user and the panel itself. Adding the extra complexity of electronics is nothing to worry about though because all the components used are commercial grade and have been designed specifically for this application. The whole system has been carefully designed and manufactured, and has now been out in the field for over 2 years with little or no reported problems apart from inevitable battery replacements, which have a life of up to a year depending on how popular the panel is. All PlayTronic panels include touch sensitive activation switches with no moving parts, water-proof speaker, sealed circuitry and battery compartment with easy to change long life batteries. All the electronic parts have been designed to fit in a durable steel, water resistant case with security screws to prevent unauthorised tampering. All the main components can be unplugged and swapped-out if there is ever a failure, making maintenance relatively cheap and easy to carry out. Bespoke design options are also available. All AMV Play Panels can be wall mounted or mounted onto posts fixed into the ground. Multiple panels can installed side by side or back to back. Please ask for further details of the options available.
---
Great job. Workmen were efficient and considerate. The children and parents really love the equipment.
K Coghlen (Assistant Headteacher)
Richmond Primary School
From start to finish, a first class team and product. We are delighted, the yard looks beautiful and our children are happier and fitter than ever before!
Alan Baker (Deputy Headteacher)
St Margaret's Primary School
The play equipment has provided the children with a valuable outside resource for free play at lunch & break times and has also improved behaviour.
We would be happy to recommend your company to others.
Eileen Denton (Headteacher)
Bligh Infants School
A very professional job, completed to time, to quality and to budget.
Simon Walmsley (Finance Manager)
Testbourne Community School
I should like to commend the quality of the equipment and the ease with which it was installed. The team who were responsible for the installation worked hard and were aware of how to behave on school premises and the health & safety requirements.
Margaret McCulloch (Headteacher)
St Paul's C of E Junior School
I would just like to take this opportunity to thank you and your team for all your help and assistance over the last 12 months.
I cannot recommend your company highly enough.
Sam Batten (Community Facilities Manager)
Caterham High School
---