SHELTERS
At AMV we design, manufacture and install our own steel canopies and shelters which means we are able to provide you with a perfect solution for your playground.  Our bespoke service backed up by BS EN 1090 certification (traceability, compliance and verification throughout the manufacturing process from the procurement of raw materials through to the final inspection and testing) ensures you have a safe structure built to last.   
AMV Shelters offer affordable protection from the elements and filter out harmful UV sunlight, they are idea for outdoor learning and also for parents collecting their children from school.  The 5 and 8 sided options come with and without seating and with the option of PET covered sides for extra protection.
Part of the Bailey Street Furniture Group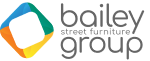 AMV Playground Solutions Ltd | Abbey Lane Enterprise Park | Abbey Lane, Burscough | Lancashire | L40 7SR
Tel: 01704 89 89 19 | sales@amvplaygrounds.co.uk
© AMV Playground Solutions Ltd 2023 - All images on the website are not to be copied or used without appropriate permissions.