SENSORY PLAY
Sensory play is a combination of fun activities that incorporate the senses; sight, smell, sound, taste and touch. This form of play is important for young children as it encourages them to explore and investigate the world they are in. Learning to distinguish between the senses and to understand which part of the body is being stimulated makes sensory activities crucial to early development.
Part of the Bailey Street Furniture Group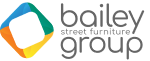 AMV Playground Solutions Ltd | Abbey Lane Enterprise Park | Abbey Lane, Burscough | Lancashire | L40 7SR
Tel: 01704 89 89 19 | sales@amvplaygrounds.co.uk
© AMV Playground Solutions Ltd 2022 - All images on the website are not to be copied or used without appropriate permissions.