PRIMARY
Children need engagement from a young age, this comes from their interactions, learning and activities. Our range of playground equipment for primary schools is a fantastic way to engage children on the playground. Weather it be Keystage 2 multi use game area's(MUGA) or activity panels, AMV playground equipment has the solution to your primary schools playgrounds needs. AMV's experience in developing a playground for this age group indicates that a structured and zoned layout provides the optimum results. For example, it is important that ball games, particularly football are confined to a designated area which enables other activities of play and quiet areas to function at the same time without disruption. We are able to build an environmentally friendly playground providing protection from inclement weather and harmful UV rays, along with safe and secure protection.
Part of the Bailey Street Furniture Group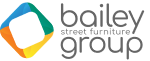 AMV Playground Solutions Ltd | Abbey Lane Enterprise Park | Abbey Lane, Burscough | Lancashire | L40 7SR
Tel: 01704 89 89 19 | sales@amvplaygrounds.co.uk
© AMV Playground Solutions Ltd 2023 - All images on the website are not to be copied or used without appropriate permissions.