EARLY YEARS
Play for early years and KS1 children encourages both physical and social development. Our playground equipment is designed to assist in both these areas in a fun and safe environment. A popular selection for early years playgrounds is a canopy or shelter, often adjoining existing classroom facilities. AMV enclosed canopies with roofing panels offer UV protection, providing a safe enclosed environment for young children, and with the addition of fun profiles such as flowers, butterflies and birds, it brings the outdoors, indoors. Surround your early years play area with bright and colourful fencing with the addition of trees, flowers, birds and butterflies or simply a design of your choice. Alternatively incorporate see through panels with traverse hand and foot holds. We have plenty of creative ideas to help you shape your playground.
Part of the Bailey Street Furniture Group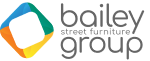 AMV Playground Solutions Ltd | Abbey Lane Enterprise Park | Abbey Lane, Burscough | Lancashire | L40 7SR
Tel: 01704 89 89 19 | sales@amvplaygrounds.co.uk
© AMV Playground Solutions Ltd 2023 - All images on the website are not to be copied or used without appropriate permissions.