Unlock the benefits of sensory play with AMV
Posted on June 28, 2023

The range of high quality sensory play equipment from AMV Playgrounds can help to unlock potential in children of all ages and abilities by enabling the creation of a stimulating, inclusive and attractive outdoor environment.
Covering three areas of sensory play – musical play, sand play and water play – the product range, has been developed to provide schools and playgrounds with innovative equipment that combines fun activities incorporating the senses of sight, smell, sound, taste and touch.

This form of play is important for younger children as it encourages them to explore and investigate the world they are in. Immersing themselves in sensory play helps children learn to distinguish between the different senses and understand which part of the body is being stimulated – all of which makes sensory activities crucial to early development.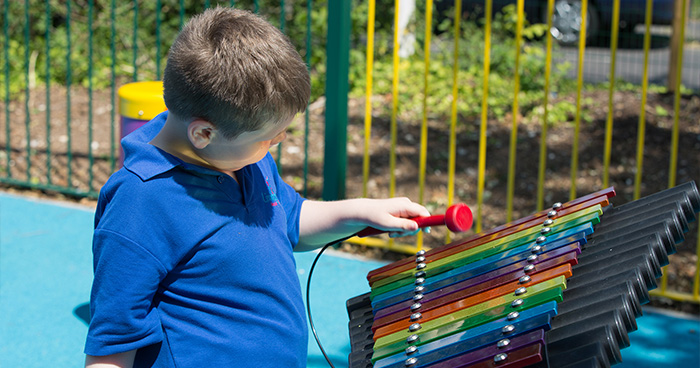 Studies from around the world have shown that musical play can be particularly beneficial to SEN children. There are a number of theories as to why this is so, but the key reasons are believed to be because of the way music can support cognitive skills development, including auditory processing, and build emotional regulation.
The process of playing music is also believed to provide a form of cathartic exercise, which can be helpful in supporting emotional and physical development. And when musical activity is in a play context, it can also help to improve a child's social skills as they learn to interact with other children, as well as their communication skills, given how creating music involves following instructions and directions.
An outdoor musical play equipment range
built on quality
The AMV range is designed to help all children reap these important benefits, including through a wide variety of percussion play products which will enhance any play space. These premium quality outdoor musical instruments combine superior visual appeal, including through their bright colours, with durability, giving children the opportunity to play everything from marimbas, chimes and tembos to sambas, tubular bells and congas.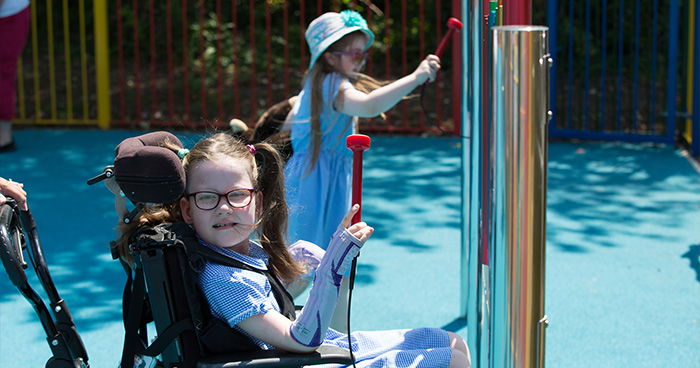 But the range is not limited to percussion instruments. A variety of highly interactive musical play panels is available too, some incorporating Playtronic technology and others offering an acoustic experience, which give children the opportunity to play instruments including the bells, piano and a guitar.
All the musical play panels available from AMV are manufactured using highly durable materials and designed with inviting colourful graphics, making them an ideal choice for schools and facilities managed by local authorities.
Additional sensory stimulation
through sand & water play
In addition to musical play, schools and local authorities can take advantage of various options in AMV's sand play and water play ranges to create stimulating, creative and fun spaces for children.
Sand is regarded as a great facilitator for tactile stimulation, particularly for those children who do not get to visit places such as beaches. Young children can also develop their social and cognitive skills through the acts of digging and building, while also sharing with others.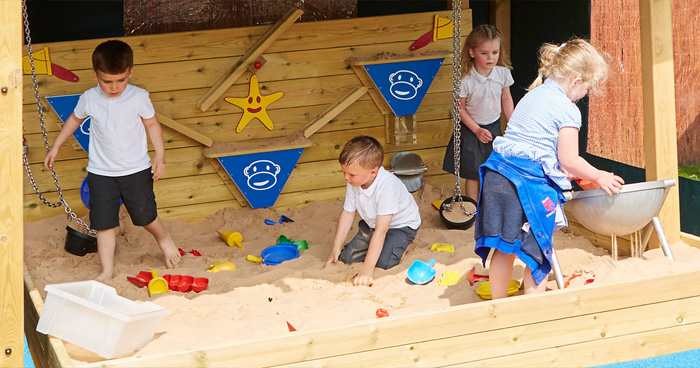 One of the products within the AMV range that makes these experiences accessible to children is a high quality freestanding sand and water table unit, complete with lid. Constructed from HDPE materials, it is highly durable for continuous outdoor use, easy to clean and not prone to rotting, cracking or splintering like timber products.
Water play is equally beneficial for children, offering a clean and simple way to get their senses active. One of the most popular AMV products in this range is a water wall featuring chutes and tubes and pieces that spin when water passes through them.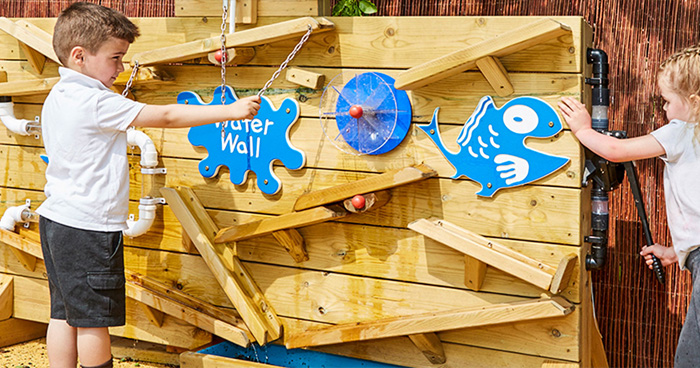 All three types of sensory play covered in the AMV equipment range can be powerful educational and development resources, with the added benefit of being fully inclusive, fun and designed for a long lifespan.
Find out more about the AMV Playgrounds sensory play range at;
https://www.amvplaygrounds.co.uk/products/play/sensory-play.
Part of the Bailey Street Furniture Group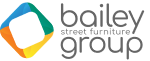 AMV Playground Solutions Ltd | Abbey Lane Enterprise Park | Abbey Lane, Burscough | Lancashire | L40 7SR
Tel: 01704 89 89 19 | sales@amvplaygrounds.co.uk
© AMV Playground Solutions Ltd 2023 - All images on the website are not to be copied or used without appropriate permissions.