The Importance Of Unstructured Play Time
Posted on November 25, 2021

Education experts and child psychologists have raised the alarm about the creeping "scolarisation of childhood", as evidence grows that free play both at school and at home is being eroded in favour of academic, sporting and cultural activities.
Experts are concerned that children in the UK are losing unstructured play time during the school day, with shorter lunch breaks filled with supervised educational activities. Once school has finished, homework and extracurricular pursuits are further eaten into free time.
They are calling on the government to take advantage of the pause created by the pandemic to think afresh about childhood beyond the narrow lens of academic attainment and bring a halt to the increasing "schoolification" of young lives.
"Huge numbers of children have had a miserable year," said Tim Gill, author and advocate for children's play. "I hope one of the things the pandemic might prompt is a step back to allow a holistic look at children's lives and wellbeing."
At AMV Playgrounds we understand the importance of a coordinated outdoor space that provides the most to children and adults alike. Outdoor play and sports equipment are essential elements to encourage everyone to play and exercise outside.
Whether you are a school looking to enhance your outdoor learning or curriculum PE facilities; a local council tendering for multi-use games area or street furniture for a public park; a private estate looking for an adventure play unit; or a community group needing advice and guidance to raise funding for a sports court or an outdoor gym to improve community fitness, you can find what you're looking for right here at AMV Playgrounds.
If you can't find anything that matches your requirements, get in touch for something designed to fit your space. Our experienced in-house design specialists are on hand to craft the perfect bespoke solution for your needs. We can provide a full package from design to installation
AMV Playgrounds is part of the Bailey Street Furniture Group a privately owned collection of individual companies serving the construction sector, providing a wide range of street furniture, playground elements and associated services to the public realm, commercial and educational schemes throughout the UK. Find out more by visiting the BSFG Website. 
Part of the Bailey Street Furniture Group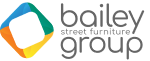 AMV Playground Solutions Ltd | Abbey Lane Enterprise Park | Abbey Lane, Burscough | Lancashire | L40 7SR
Tel: 01704 89 89 19 | sales@amvplaygrounds.co.uk
© AMV Playground Solutions Ltd 2023 - All images on the website are not to be copied or used without appropriate permissions.