PLAYGROUND FURNITURE
AMV has a selection of outdoor playground and park furniture that make spending the time outside more enjoyable. Benches and picnic tables suitable for young children to adults can be used for outdoor learning, dining or social interaction and can incorporate features which encourage children to use their imagination by transforming a functional seat into a play station. Litter bins and recycling bins keep places clean of stray rubbish, there are standard designs as well as fun and playful bins for primary schools and nursery's. Fencing and gates provide secure perimeters around properties and games areas keeping children safe. Outdoor notice boards allow news and information to be shared.
Part of the Bailey Street Furniture Group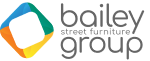 AMV Playground Solutions Ltd | Abbey Lane Enterprise Park | Abbey Lane, Burscough | Lancashire | L40 7SR
Tel: 01704 89 89 19 | sales@amvplaygrounds.co.uk
© AMV Playground Solutions Ltd 2022 - All images on the website are not to be copied or used without appropriate permissions.