AMV Canopies provide greater purpose and functionaltiy for outdoor spaces
Posted on September 18, 2023

The range of high quality canopies from AMV Playgrounds can help to create a safe, secure and versatile outdoor environment in schools, nurseries and all kinds of early years settings.
Using canopies to provide shelter from the elements can transform outside spaces and enable a whole host of educational, play and social activities to take place all year round. Moving activities outside the confines of the classroom or indoor halls gives children an opportunity to learn and play in a healthy, stimulating environment.
This is important considering what research tells us about the benefits of playing and learning outdoors versus indoors. Providing shelter through the installation of canopies, therefore, is key to making outdoor learning and play possible for more of the school year, meaning children can get more of the benefits.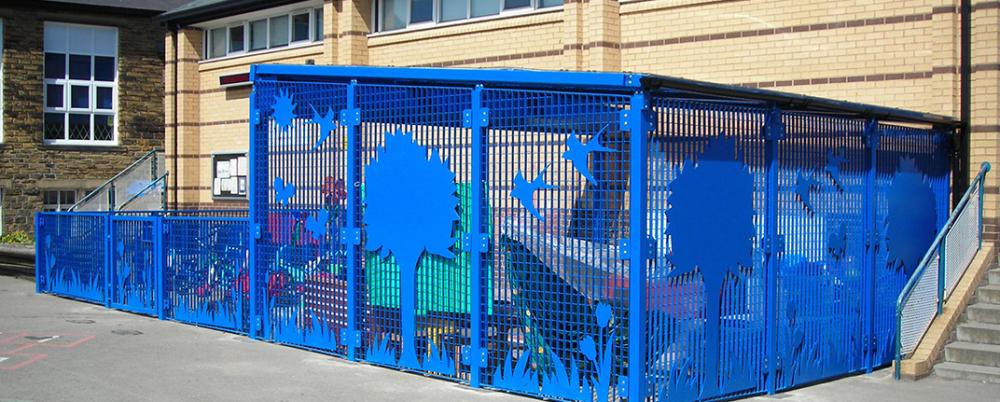 AMV, who are one of the UK's leading designers, manufacturers and installers of playground equipment, provides four core types of canopies that can be adapted to suit a huge range of needs. The flexibility with size and styles gives clients the scope to find a solution that meets the specific requirements of their site.
AMV canopies are shaped according to the site requirements, whether that means a curved roof structure, or a L-shape or extended curve for the whole canopy to follow a building elevation or landscaped area.
Canopies not only provide a dry and safe space from rain but also offer protection from the sun - Thanks to all roofing panels which filter out harmful UV sunlight. This helps maximise visibility too, reducing the risk of the new sheltered space creating unwanted potential hiding places.
Early years canopies
AMV offers two different types of canopies for early years settings where there are specific requirements that perhaps do not apply in other education applications. These early years canopies can be specified with roller shutters or with an enclosed design.
The roller shutter canopy gives the outdoor space multi-functionality. With the shutters open, the canopy provides effective shelter to young children while they play or learn with the open sides giving them easy access to adjoining outdoor spaces. And when the shutters are down, the space can be closed off, meaning it can still be used in inclement weather or to store equipment at the end of the school day.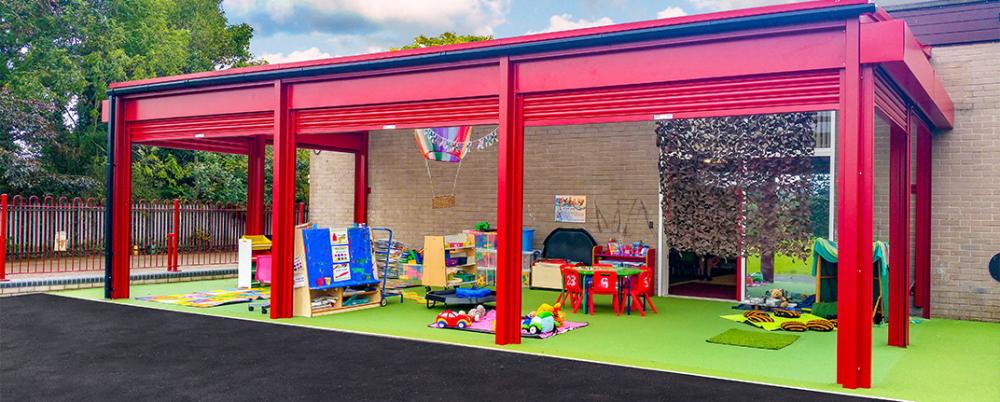 The early years enclosed canopy offers a different dimension. It can feature low, mid or high level integrated fencing around its perimeter with access gates to ensure the outdoor space is safe and secure, independently of surrounding areas. This can be useful for the secure storage of equipment too.
An excellent example of this type of canopy is a recent project completed by AMV Playgrounds at the Halifax Academy, an all-through 4-16 school in West Yorkshire. Here the client sought to create versatile spaces through the installation of an enclosed sheltered area, in addition to sports facilities, for which an early years enclosed canopy proved to be the ideal fit.
Entrance canopies
Entrance canopies are a must-have for any school to ensure children, staff, parents and visitors have the shelter from the elements in the transition from outdoors to indoors or vice versa. AMV offers a wide variety of options here, including free standing steel frame structures which can be painted in any RAL colour, canopies attached to the building and the Birley timber canopy.
The Birley is a versatile freestanding monopitch canopy with steel beams that are partially clad with a choice of hardwood or softwood timber. It supports a timber roof frame that is clad as standard with multiwall polycarbonate.
Outdoor dining area canopies
An outdoor space can be transformed into an outdoor dining area by adding an AMV canopy. This gives schools an outdoor eating area for children to enjoy their lunch or snacks for most of the year because it will provide effective shelter from the weather in all but the most severe conditions.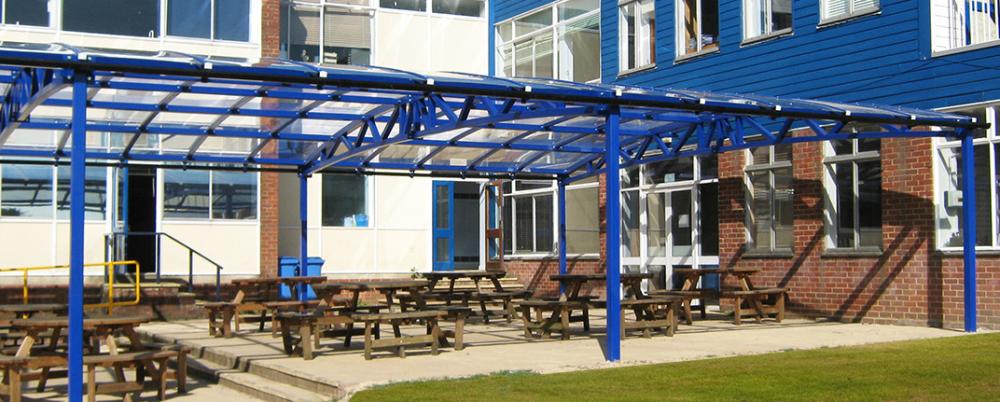 As with all AMV canopies, these can be designed to suit the shape of the space you wish to cover, with wide spanning structures possible to maximise the amount of uncluttered space below – meaning more space for tables and chairs.
Covered walkways
Canopies are ideal for creating a cover for walkways and footpaths between school buildings or to link the school entrance to pick-up/drop-off points. AMV offers several different styles of covered walkway canopies, including bespoke steel frame structures and the Birley timber canopy that are equally ideal for entrance canopies, along with the eye catching Moreton Gullwing and Delaware.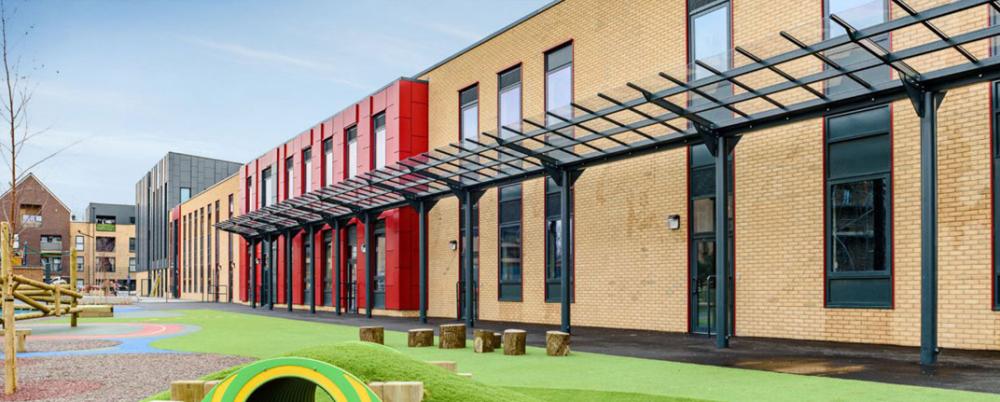 These latter canopy and shelter styles are supported by a series of steel posts and beams, with PET roof panels extending outwards on both sides, creating a distinctive shape. As a result, they are a popular choice for new schools or refurbishment projects where a more contemporary look is desired to further enhance the visual appeal of outdoor spaces.
Additional purpose
As valuable as AMV canopies are for serving all these educational, play and social goals, they can also be used for more practical reasons to create operational spaces outdoors and ease the pressure in other parts of the school building. For example, AMV canopies can be bespoke designed to create bin storage areas or covered cycle parking, applications which demonstrate the great versatility of the canopy systems.
Find out more at www.amvplaygrounds.co.uk.
Part of the Bailey Street Furniture Group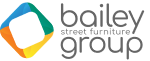 AMV Playground Solutions Ltd | Abbey Lane Enterprise Park | Abbey Lane, Burscough | Lancashire | L40 7SR
Tel: 01704 89 89 19 | sales@amvplaygrounds.co.uk
© AMV Playground Solutions Ltd 2023 - All images on the website are not to be copied or used without appropriate permissions.