Tikehau Capital signs agreement to acquire a majority stake in CROWD to support its growth
Posted on July 20, 2023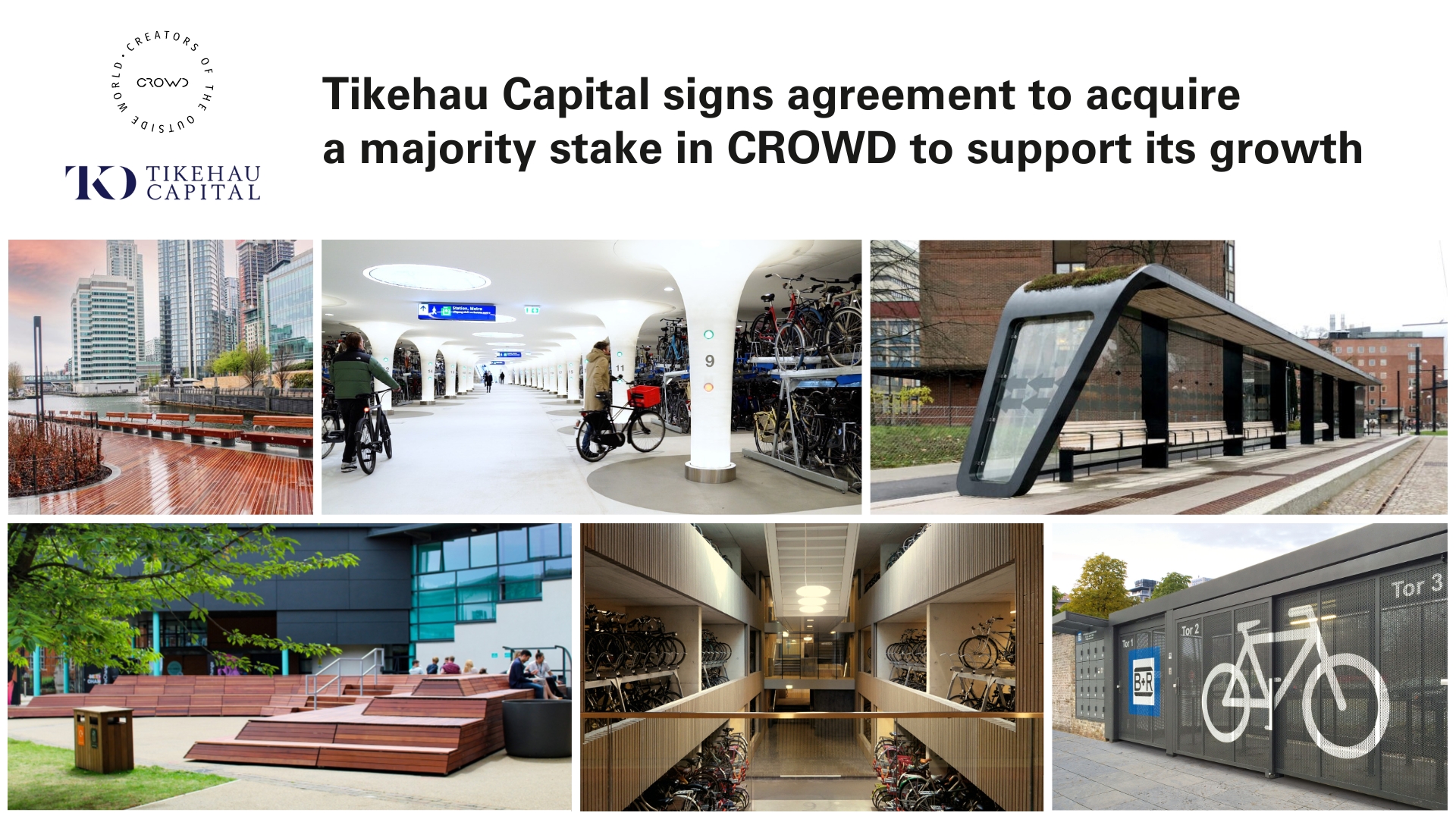 Amsterdam, Paris, Frankfurt, 20 July 2023 - Tikehau Capital, the global alternative asset management group, announced today that it has signed an agreement to acquire a majority stake in CReators of the Outside WorlD ("CROWD", or "the Company"), a panEuropean leading provider of cycling infrastructure and sustainable street furniture, based in the Netherlands, with a strong presence in the DACH Region, from Convent Capital, an investment company based in Amsterdam. 
Founded in 2014, CROWD provides premium cycling infrastructure and street furniture products, with a focus on circularity and digital city solutions. Through solid organic growth, coupled with several strategic acquisitions, CROWD has experienced strong growth to become a leading pan-European player in the industry, boasting superior market shares across DACH, Benelux, UK and Nordics. In 2022, the Company generated over €120m in revenue and grew to nearly 500 employees.
Tikehau Capital's majority investment in CROWD will mark a key milestone in the execution of the Company's growth strategy. Through this partnership, Tikehau Capital will provide CROWD with operational and strategic support to consolidate its market-leading position, leverage its global network to help accelerate its international development and expand its product portfolio with tech-enabled products, among others. CROWD's management team will be reinvesting significantly alongside Tikehau Capital.
Tikehau Capital's investment will be made via its private equity decarbonisation strategy* and represents it's twelfth investment to date. Launched in 2018, in partnership with TotalEnergies, the first vintage of this €1.4 billion strategy is one of the largest private equity vehicles singularly committed to supporting small and medium-sized companies that are driving the decarbonisation of the economy.
CROWD is a sustainability-driven company that prioritises circularity throughout its value chain, adhering to the principles of "maintain, re-use, re-furbish, and re-cycle". CROWD promotes low-carbon mobility, delivering high-quality, sustainable and safe products to cyclists everywhere. CROWD's commitment drives the shift towards greener spaces and a healthier lifestyle and is fully in line with the investment philosophy of Tikehau Capital's Private Equity decarbonisation strategy.
CROWD was founded by Convent Capital back in 2014 with a vision to create a pan-European company supporting the transition to low carbon-mobility and promoting the circular economy in its industry. Convent Capital has been actively involved in building the company into a leading player it is today. The acquisition of CROWD by Tikehau Capital marks Convent Capital's third exit from its first investment fund launched in 2011, demonstrating its active support in enabling its investments to capitalise on the opportunities presented by the circular economy. 
"CROWD has outperformed the European market and is well positioned to continue its growth trajectory, thanks to its innovative product offering, which supports the shift towards greener spaces and growth of low-carbon mobility. We look forward to working with CROWD's management team in its next chapter of development and expansion, and we are confident in our ability to leverage Tikehau Capital's global network and expertise to support the Company in its strategic objectives. This cross-border deal showcases the strength of our multilocal setup as our private equity teams from Germany, France, and Benelux collaborate in their endeavour to achieve this significant operation," said Emmanuel Laillier, Head of Private Equity at Tikehau Capital.
James Steward, CEO of CROWD, confirms that, "Tikehau Capital's investment marks a truly defining moment for us all at CROWD! With the combined resource, network and support from the private equity decarbonisation  strategy, we will be able to accelerate our efforts  across all areas ensuring the continued facilitation of the micro mobility shift within  the built environment and public domain. Additionally, it will allow us to continue to furnish the outside world, encouraging public socialisation, interaction and movement. CROWD's entire management are fully committed and excited to start this next chapter with Tikehau Capital. With a clear focus on expanding into new territories, making internal investments, and improving within manufacturing, insourcing and operational excellence, we aim to enhance intercompany trading and expand our group platform in marketing, finance and ICT. In our view, this newly formed partnership will actively assist in the decarbonisation of the public realm. Lastly, we would like take this opportunity to thank Convent Capital, our previous investor, for the faith, trust and support they have showed over the last years in developing CROWD into the pan-European leader it is today!"
"Looking back on CROWD's exciting and successful journey, building the company from a regional player to the European market leader it is today, we are proud of what we have achieved together with everyone involved. We would like to thank all employees and CROWD's management in particular for their contribution and effort in realising its success, and for the joy we have had working with them over the years. We believe a bright future lies ahead for CROWD, and although it is with some sadness that we part, we are confident Tikehau Capital is the right partner to guide the company through the next chapter of its successful journey," added Dirk Hoorn, Founding Partner of Convent Capital.  
About Tikehau Capital
Tikehau Capital is a global alternative asset management group with €39.7 billion of assets under management (at 31 March 2023). Tikehau Capital has developed a wide range of expertise across four asset classes (private debt, real assets, private equity and capital markets strategies) as well as multiasset and special opportunities strategies. Tikehau Capital is a founder led team with a differentiated business model, a strong balance sheet, proprietary global deal flow and a track record of backing high quality companies and executives. Deeply rooted in the real economy, Tikehau Capital provides bespoke and innovative alternative financing solutions to companies it invests in and seeks to create long-term value for its investors, while generating positive impacts on society. Leveraging its strong equity base (€3.1 billion of shareholders' equity at 31 December 2022), the firm invests its own capital alongside its investor-clients within each of its strategies. Controlled by its managers alongside leading institutional partners, Tikehau Capital is guided by a strong entrepreneurial spirit and DNA, shared by its 742 employees (at 31 December 2022) across its 15 offices in Europe, the Middle East, Asia and North America. Tikehau Capital is listed in compartment A of the regulated Euronext Paris market (ISIN code: FR0013230612; Ticker: TKO.FP). For more information, please visit: www.tikehaucapital.com.
About CROWD
CReators of the Outside WorlD is an innovative group of established companies that designs and furnishes the public space and built environment. CROWD's key focus areas are within cycling infrastructure, public shelters and street furniture. CROWD aims to make a conscious contribution to the living environment of society by developing products which enable modal transport, socialisation, and interaction, along with sustainable and circularity design principles. Whilst CROWD was founded in 2014, via its buy & build strategy, executed in the main the last 4 years, it consists currently of 6 companies, namely Lumiguide, VelopA, ZIEGLER, IJslander, HITSA (including LAMPAS) and Bailey Street Furniture Group (including Cyclepods).  Group turnover is more than €120 mio, with a total of 10 main office locations throughout 8 countries and 5 production locations (as of 30 June 2023). Therefore, CROWD is proud to be Europe's largest street furniture and cycling infrastructure group. For more information, please visit: www.crowdoutside.com
About Convent Capital
Founded in 2011, Convent Capital is an independent investment company based in the Amsterdam, the Netherlands. From the start, Convent Capital has had a strong focus on sustainability and a dedication to the transition from the current linear economy to a circular economy. Its long-term strategy creates sustainable, high returns for its stakeholders combined with positive societal impact.  Convent Capital currently manages two funds. Its first evergreen fund focuses on Dutch SMEs with a strong track record and strategic and operational capabilities. With its recently launched Agri Food Growth Fund,  Convent allocates growth capital to innovative and sustainable companies in the agricultural and food industries, and aims to generate a positive impact through every investment. For more information, please visit: www.conventcapital.nl  
Press contacts:
Tikehau Capital: Valérie Sueur – +33 1 40 06 39 30
UK – Prosek Partners: Matthieu Roussellier – +44 (0) 7843 279 966 USA – Prosek Partners: Trevor Gibbons – +1 646 818 9238 press@tikehaucapital.com
Shareholder and investor contacts:
Louis Igonet – +33 1 40 06 11 11 Théodora Xu – +33 1 40 06 18 56 shareholders@tikehaucapital.com Parties have reached agreement on the mains terms and conditions for the transaction subject to customary conditions such as works council advice and regulatory filings.
Disclaimer:
*The strategy mentioned in this press release is reserved for professional investors, is no longer open to marketing nor subscription and is managed by Tikehau Investment Management SAS, a portfolio management company approved by the AMF since 19/01/ 2007 under the number GP-07000006. Noncontractual document intended exclusively for journalists and media professionals. The information is provided for the sole purpose of enabling them to have an overview of the transactions, whatever the use they make of it, which is exclusively a matter of their editorial independence, for which Tikehau Capital declines all responsibility. This document does not constitute an offer to sell securities or investment advisory services. This document contains only general information and is not intended to represent general or specific investment advice. Past performance is not a reliable indicator of future results and targets are not guaranteed. Certain statements and forecasted data are based on current forecasts, prevailing market and economic conditions, estimates, projections and opinions of Tikehau Capital and/or its affiliates. Owing to various risks and uncertainties actual results may differ materially from those reflected or expected in such forward-looking statements or in any of the case studies or forecasts. Tikehau Capital accepts no liability, direct or indirect, arising from the information contained in this document. Tikehau Capital shall not be liable for any decision taken on the basis of any information contained in this document. All references to Tikehau Capital's advisory activities in the US or with respect to US persons relate to Tikehau Capital North America.
Part of the Bailey Street Furniture Group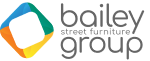 AMV Playground Solutions Ltd | Abbey Lane Enterprise Park | Abbey Lane, Burscough | Lancashire | L40 7SR
Tel: 01704 89 89 19 | sales@amvplaygrounds.co.uk
© AMV Playground Solutions Ltd 2023 - All images on the website are not to be copied or used without appropriate permissions.