The Future of Solar Power - SunHub
Posted on October 18, 2021

SunHub is an extension of Plateau Picnic, a range of furniture from AMV Playgrounds. The Plateau-series is built for longevity. From the factory, product lifetime is estimated for up to 50 years.
The material is originally developed as exterior cladding for buildings, and as a result, exhibits impressive outdoor performance. The panel is robust, has a sleek, exclusive look, and is easy to maintain. After its service cycle has ended, the panel can be disposed of thermally without harmful emissions or toxins. Our panels are also Greenguard and REACH certified, as it does not emit harmful toxins or gasses during its lifetime, and as such, it is suitable for indoor use as well.
The frame is made of galvanised steel further emphasising Plateau's robustness, while preserving elegant and clean look. Highly UV- and weather resistant, solid mechanical quality and durability. Plateau's materials require no maintenance other than soap and water.
SunHub elevates Plateau Picnic to another level. SunHub adds a third 'plateau' to the furniture, enabling new technical features and new application possibilities.
With SunHub, Plateau Picnic becomes more than just a piece of furniture, it becomes a social 'hub'. It allows people to listen to music via built-in speakers and Bluetooth connection, charge their phones wirelessly or by cable and PC-charging.
SunHub is 100% solar powered, resistant to weather conditions, intelligently controlled and CO2 free.
View the Plateau SunHub Picnic Table.
AMV Playgrounds is part of the Bailey Street Furniture Group a privately owned collection of individual companies serving the construction sector, providing a wide range of street furniture, playground elements and associated services to the public realm, commercial and educational schemes throughout the UK. Find out more by visiting the BSFG Website. 
Part of the Bailey Street Furniture Group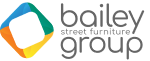 AMV Playground Solutions Ltd | Abbey Lane Enterprise Park | Abbey Lane, Burscough | Lancashire | L40 7SR
Tel: 01704 89 89 19 | sales@amvplaygrounds.co.uk
© AMV Playground Solutions Ltd 2023 - All images on the website are not to be copied or used without appropriate permissions.