Taking playground furniture to a new level - Introducing The Plateau Range
Posted on November 22, 2021

As part of the Bailey Street Furniture Group we have expanded suppliers to now include the Danish group Out-sider who take a truly unique and playful approach to external furniture, perfectly suited for the educational sector. 
Utilising a clear Scandinavian design philosophy the family of products feature cohesive forms from sustainable materials with distinctive colours. 
The Plateau products combine steel frames with vibrant and durable HPL (High-Performance Laminate) to create a distinctive range of unified seating and picnic sets. This range can be elevated further with the addition of integrated tech and lighting.

Plateau O is the standard Picnic set model: a table with an integrated bench all the way around it. Seats 10-12.
Plateau L has two benches providing staggered access to the table along a flat diagonal with each bench forming a letter L. This allows easy access for all ages. Seats 8-10.
Plateau I features two benches surrounding the table, with room for a wheelchair at either end. Seats 6-8 - including two wheelchairs.

Plateau Seat simple design and generous length provide plenty of seating, as well as the possibility for people to group at each end. The unique design can accommodate 5-6 people.
Plateau Bench is a backless version of the seat opening up the design to seating on both sides with the option to add side tables 
Plateau Plinth is a wall-mounted version that can seat 1-4 people depending on the length and side-table position.

Plateau Picnic Round is a simple, limitless design, that has smart functionalities such as easy access, space for a wheelchair, and the option of placing a light, parasol or similar in the middle of the table.
Plateau Picnic Street is slim and crafted with a cool one-flow frame consisting of a continuous steel tube that completes the design in an exciting, yet simple shape.
Part of the Bailey Street Furniture Group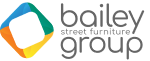 AMV Playground Solutions Ltd | Abbey Lane Enterprise Park | Abbey Lane, Burscough | Lancashire | L40 7SR
Tel: 01704 89 89 19 | sales@amvplaygrounds.co.uk
© AMV Playground Solutions Ltd 2023 - All images on the website are not to be copied or used without appropriate permissions.