Table Tennis for Residential Rooftop Terrace | Manchester
Posted on January 17, 2022

Deansgate Square
Playground furniture doesn't have to be for only primary schools and nurseries! AMV Playgrounds have proven that with their successful collaboration with their sister company Artform Urban Furniture. Both companies are part of the wider Bailey Street Furniture Group family that allows for a more cohesive urban environment that utilises every aspect of human needs. 
AMV were asked to supply table tennis tables for a residential project in Manchester.  Deansgate Square is an up and coming destination in Manchester, with three new skyrise apartment buildings of differing heights. The rooftop terraces have been designed to provide exclusive private outdoor seating and dining areas combined with plenty of plants and shrubs. 
The Table Tennis Tables are our single colour version with a green finish for this project. They are manufactured in steel and powder coated as standard, making them more vandal resistant than concrete versions. The tables have rounded corners to allow for safety. 
The Table Tennis Tables allow the residents to enjoy games together with family, visitors and other residents. They add another level of socialisation for people through the action of play, and create a fun space on the terrace. 
Looking for outdoor play or fitness equipment for your residential project?
Get in touch with our team now on 01704 89 89 19 or sales@amvplaygrounds.co.uk
AMV Playgrounds is part of the Bailey Street Furniture Group, a privately owned collection of individual companies serving the construction sector, providing a wide range of street furniture, playground elements and associated services to the public realm, commercial and educational schemes throughout the UK. Find out more by visiting the BSFG Website.
Click on the images below to enlarge:
Part of the Bailey Street Furniture Group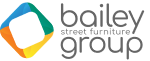 AMV Playground Solutions Ltd | Abbey Lane Enterprise Park | Abbey Lane, Burscough | Lancashire | L40 7SR
Tel: 01704 89 89 19 | sales@amvplaygrounds.co.uk
© AMV Playground Solutions Ltd 2023 - All images on the website are not to be copied or used without appropriate permissions.