Rise And Shine! The Power Of Solar
Posted on October 6, 2021

As we transition out of Covid living and hurtle toward Net Zero by 2050, it is inevitable that if we as a country want to make a positive impact on our future world and meet our ambitious environmental targets, then our towns and cities need to become smarter.
Technology continues to improve and the vast breath of newness can be overwhelming. People of course keep up to date with gadgets but now our communities as a whole expect our cities to keep up too.
The infrastructure of our cities needs to not only harness the power of technology to bring health and environmental benefits but to also find ways of harnessing our natural resources effectively.
The International Energy Agency states that solar power could surpass fossil fuels, wind and hydro by 2050 to become the world's largest energy source. Our dependence on fossil fuels has left our densely populated areas unhealthy. With layers and layers of dirty air and smog. We all agree we desire a cleaner future. Therefore we need to take a serious look at renewable energy sources for all our urban planning and landscaping.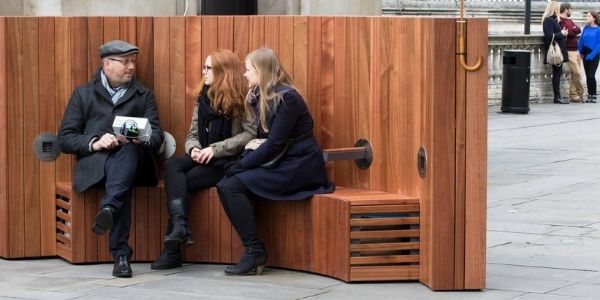 The sun is of course a clean sustainable energy source. Providing heat, light and electricity it is surely a source we should be taking advantage of across both our cities and in our world of design.
Smart solar urban furniture options are becoming available at a rapid speed, and the advantages are clear. After the initial investment Solar powered furniture options contribute to electricity savings, maintenance costs and improved modern features.
Smart solar can be applied to many urban landscaping features. Smart solar charging stations are becoming increasingly desired by our city's inhabitants, the charging of smartphones, laptops and the availability of wifi help create internet infrastructure across our cities. Provided in the form of tables and dining furniture, these smart solar hubs also allow for communities to socialise and enjoy outdoor spaces.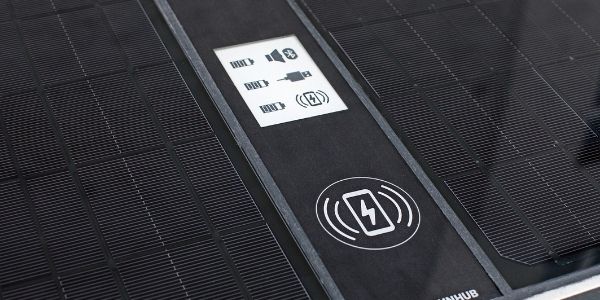 There are also benefits for the city itself, more people are able to search for information about traffic and parking, traffic congestion can be minimized which in turn helps our air quality. Informal smart consoles in the form of seating and tables allow for a more interactive lifestyle. We can be in touch.
Solar power, unlike finite fossil fuels, is a clean resource which will remain for at least another 5 billion years! It is also available for all corners of the globe. In the UK alone Solar power hit a new record this spring by contributing enough electricity to meet 30% of the country's demand.
It is possible that our cities' seating and recreational furniture could contribute not only to WiFi and phone charging but could also be powerful enough to charge wheelchairs or even electric cars going forward.
We have seen across the globe some of the hottest temperatures on records this year and as our environment and cities heat up a Japanese consortium has cleverly designed a solar-plus-battery bench that includes cooling elements and vapourizers.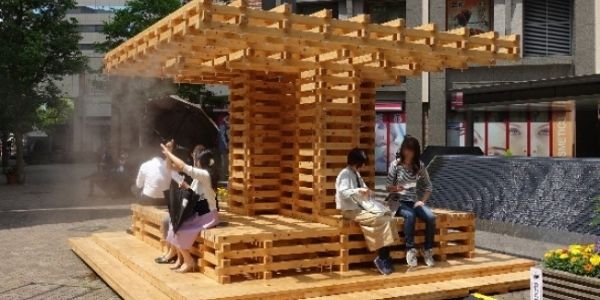 Photo by Nikken Sekkei
Why not have solar powered urban furniture?
The urban furniture provides shade, cooling plates and cooling water for the community. "Cool Tree Lite" has been developed to perform just like a tree, it is made from sustainable wood and provides not only shade but also water vapour. The solar powered vaporisers spread a pleasant mist and the wooden branches/roof structure provide the shade. Two solar modules that are mounted at the top of the structure charge a hidden battery to power the cooling plates that have been cleverly integrated into the seating areas. A fully functioning solar powered self sufficient urban area.
Bailey Street Furniture Group offers the combination of innovative design, clever solutions and smart technologies for our urban regeneration and reallocation needs. BSFG believes that investing in well designed sustainable urban spaces is vitally important, our immediate surroundings and environment benefit our quality of life and promote a healthier future that we all so depend upon.
Using world class design teams and utilising environmentally sustainable materials in conjunction with leading edge technology, Bailey Street Furniture Group creates inspiring integrated urban furniture with our future needs in mind.
AMV Playgrounds is part of the Bailey Street Furniture Group a privately owned collection of individual companies serving the construction sector, providing a wide range of street furniture, playground elements and associated services to the public realm, commercial and educational schemes throughout the UK. Find out more by visiting the BSFG Website.
Part of the Bailey Street Furniture Group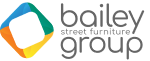 AMV Playground Solutions Ltd | Abbey Lane Enterprise Park | Abbey Lane, Burscough | Lancashire | L40 7SR
Tel: 01704 89 89 19 | sales@amvplaygrounds.co.uk
© AMV Playground Solutions Ltd 2023 - All images on the website are not to be copied or used without appropriate permissions.