Playtime!
Posted on May 6, 2021

AMV Playgrounds offer many bespoke multi sensory play options that can be installed and designed for our precious outdoor spaces. The Trim Trail Range is manufactured in AMV's workshop here in the UK. The rounded posts are galvanised and powder coated to offer a low maintenance hygienic surface that can be sanitised and wiped down after play. Each well designed item can be installed together and combined into countless configurations. Each course can create an imaginative agility environment to suit the ages of each user. 
Trim-Trails are the perfect way to engage children whilst allowing them to utilise a huge range of vital skills. Balance, strength, climbing, stretching to name a few. Children should be active and interactive within each landscape. Outdoor play needs to encompass two vital things, the excitement factor which brings challenge and risk and the imaginative factor where the outdoors can provide endless opportunities to engage children's imaginations. 
Creative playground equipment is designed to encourage natural child-led play which is essential to a child's development. A correctly designed environment offers numerous advantages that helps a child's expansion in many ways.
AMV Playgrounds is part of the Bailey Street Furniture Group a privately owned collection of individual companies serving the construction sector, providing a wide range of street furniture, playground elements and associated services to the public realm, commercial and educational schemes throughout the UK. Find out more by visiting the BSFG Website. 
Part of the Bailey Street Furniture Group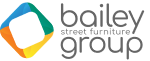 AMV Playground Solutions Ltd | Abbey Lane Enterprise Park | Abbey Lane, Burscough | Lancashire | L40 7SR
Tel: 01704 89 89 19 | sales@amvplaygrounds.co.uk
© AMV Playground Solutions Ltd 2023 - All images on the website are not to be copied or used without appropriate permissions.