Merry Christmas and a Happy New Year from AMV Playgrounds!
Posted on December 20, 2022

On behalf of all the team at AMV Playgrounds, we would like to take the opportunity to thank our clients, partners, and suppliers for your continued support throughout the year. 
It is with great pleasure that we can announce that as of the 1st January 2023, Bailey Street Furniture Group will be trading as one limited company encompassing five of the outdoor furniture industry's well-known brands – Bailey Streetscene, Artform Urban Furniture, Street Furniture Direct, AMV Playgrounds, and Cyclepods!
The creation of the Bailey Street Furniture Group has been an ongoing project for several years, gradually merging brands specialising in street furniture, cycle parking, outdoor play equipment, and other external works to create a group with expertise across the industry to better serve our clients.

Starting with Bailey Streetscene in 2003, the Bailey Street Furniture Group has steadily grown its presence in the external works and outdoor furniture industry since.
In 2013 Street Furniture Direct joined with their range of value-engineered cycle parking and street furniture and was soon followed by AMV Playgrounds in 2014, adding a new range of durable outdoor play and sports equipment to the group's product portfolio.
Artform Urban Furniture was established as a new division of the group in 2015, dedicated to specifying high-end architectural products from international partners.
In 2020, the Bailey Street Furniture Group was formally created and soon joined in 2022 by Cyclepods with their portfolio of premium cycle parking solutions.
With all 5 brands covering each sector of the external works industry, we can provide a wide range of solutions for every project and client through the Bailey Street Furniture Group Ltd.
We look forward to working with you all in 2023 and beyond! 
We wish you all the best over the holiday season and look forward to working with you in the near future.
Please note that the office will close on Friday 23rd December 2022 and will re-open on Tuesday 3rd January 2023.
Part of the Bailey Street Furniture Group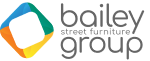 AMV Playground Solutions Ltd | Abbey Lane Enterprise Park | Abbey Lane, Burscough | Lancashire | L40 7SR
Tel: 01704 89 89 19 | sales@amvplaygrounds.co.uk
© AMV Playground Solutions Ltd 2023 - All images on the website are not to be copied or used without appropriate permissions.