Introducing a Unique and Colourful Range of Playground Furniture
Posted on November 3, 2021

AMV would like to introduce a collection of adaptable and multifunctional playground furniture that caters to all ages and key stages. As part of the Bailey Street Furniture Group we have expanded suppliers to now include the Danish group Out-sider who take a truly unique and playful approach to external furniture, perfectly suited for the educational sector.

These products offer a variety of solutions from seating to landscaping, dining to exercise, and more, all carefully selected to expand our offering to elevate playgrounds and external spaces.
Utilising a clear Scandinavian design philosophy the family of products feature cohesive forms from sustainable materials with distinctive colours.

The Loop range of rotationally moulded plastic offers is a versatile, durable and lightweight range of modular products that interconnect forming organic and functional spaces inviting users to interact and engage. The Loop has a textured/granulated surface due to abrasive blasting of the mould. This process enhances the friction and makes the surface comfortable and safe to use.

Loop Circle can be used indoors and out, offering sociable seating for 4-6 people.
Loop Arc is an innovative piece of furniture for sitting and socialising.
Loop Line can function independently as well as in combination with LOOP Arc to form a triangle, a curving snake or any number of other configurations.

Loop Corner The 90-degree module can create square seat arrangement and combines with Loop Line to form the Loop Playfield or a sandbox while also providing seating. 

HopOp / HopOp 500 - Pure, simple, cylindrical forms of variable sizes and positioned at customisable heights and distances, inviting passers-by to sit, rest, and play. 
Loop Picnic The combination of Loop Cone at the centre of 6 surrounding HopOp 500 benches opens up new opportunities for creating small, informal seating groups.
Part of the Bailey Street Furniture Group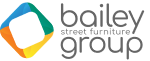 AMV Playground Solutions Ltd | Abbey Lane Enterprise Park | Abbey Lane, Burscough | Lancashire | L40 7SR
Tel: 01704 89 89 19 | sales@amvplaygrounds.co.uk
© AMV Playground Solutions Ltd 2023 - All images on the website are not to be copied or used without appropriate permissions.