Infection Free Play
Posted on April 26, 2021

The current pandemic is responsible for many things but surely one of the most destructive has to be the effect it has had on children's play, their spaces and ultimately their all so important childhood freedom. 
Both good physical and mental health are vital outcomes of play. Play depends upon the provision of physical and social environments that meet the needs of children, that provide fun, creativity and freedom. Playing in an authentic, safe and happy environment can nurture the biological needs of children's play.
The impact of staying at home and the closure of our play spaces will have had a severe effect on the well being of many children and young people. As we adapt to living with the virus it will be vital that we ensure children have many good opportunities to access play. Outdoor play will be more important than ever. Giving children more space, allowing for the socially distanced 2m, providing safe play hygienically, managing numbers on site and limiting times may all need to be taken into consideration. 
Outdoor and nature play are perfect. Children love to adapt and use their spaces imaginatively. It is important that play equipment can be washed down and disinfected if needed between uses. 
Berlin based designers Martin Binder and Claudio Rimmele have designed a concept that involves "infection-free" play, where children can continue to play despite the pandemic. They designed a concept where children can play together safely. They cleverly created a space where children could be protected from potential transmission of the virus whilst still interacting in a fun way.
The Rimbin concept is a playground made up of a group of individual play areas shaped like water lily pads on a pond. Each child can have their own play platform with individual paths and entrances from which they can communicate at a safe distance through hollow tubes. Each play platform can accommodate different types of activities and games, some contain sand, seesaws, ladders and hamster wheels!
Elements that are exposed to direct contact, like handles and tubes are made from metal which allows for easy sanitisation.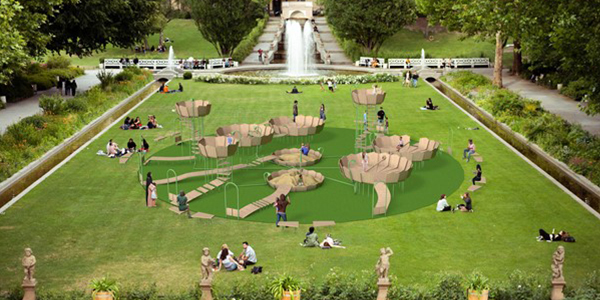 Source: https://www.dezeen.com 
Some of the strictest lockdown measures that we have endured in the UK have highlighted an appreciation of our shared public spaces. Public parks, playgrounds, and outdoor spaces have been and will continue to be increasingly vital for the nations health both physically and mentally. 
With one in eight households without a garden millions of children have been restricted to indoor play only during the last year. 
Public and social play has suffered years of underfunding and many parks have been closed, the local authority budgets that have been continually reduced will need to be renewed in the coming years in order to mitigate the damage that Covid has inflicted upon our youngest members of society.
Alternative play equipment that can be utilised to children's advantage during these strange Covid times and beyond are steel structures, such as the AMV Steel Tennis Net, a hygienic, vandal proof, low maintenance  and cost effective solution. This play alternative is perfect for schools, public spaces and parks and can be combined with AMV Goal Units to provide a comprehensive and safe opportunity for young people to get both active and involved.
Even so it is too early yet to predict how playgrounds and outdoor space will change, I'm sure we will see increased disinfectant stations. Designers and planners will be considering which materials will be the moist hygienic. Steel is of course easier to clean but natural porous materials may trap microbes more effectively. If there is a silver lining to Covid maybe it is that we are valuing children's outdoor spaces more than ever. 
AMV Playgrounds understand the importance of a coordinated outdoor space that provides the best opportunities for children and adults alike. Outdoor play and sports equipment are essential elements to encourage everyone to play and exercise outside.
AMV provides clever play solutions for schools looking to enhance their outdoor learning or PE play facilities. Multi use games areas and street furniture are perfect for local councils and public parks. AMV can design and provide adventure play units and outdoor gyms for private estates and community fitness.
AMV Playgrounds is part of the Bailey Street Furniture Group a privately owned collection of individual companies serving the construction sector, providing a wide range of street furniture, playground elements and associated services to the public realm, commercial and educational schemes throughout the UK. Find out more by visiting the BSFG Website.
Part of the Bailey Street Furniture Group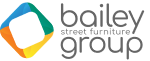 AMV Playground Solutions Ltd | Abbey Lane Enterprise Park | Abbey Lane, Burscough | Lancashire | L40 7SR
Tel: 01704 89 89 19 | sales@amvplaygrounds.co.uk
© AMV Playground Solutions Ltd 2023 - All images on the website are not to be copied or used without appropriate permissions.