How urban spaces are transforming and the role of street furniture
Posted on March 26, 2020

How urban spaces are transforming and the role of street furniture
The last decade has seen a considerable shift in how urban spaces are designed and constructed across the world. Construction professionals have changed their practices from designing urban places around buildings and roadways, instead now focusing on public spaces and communities.
Towns and cities do not exist without people. These are areas where people work, eat, drink, learn, socialise, and generally give a purpose to a space. But for years, urban spaces were designed around buildings, roads and other infrastructure elements which people had to adapt to.
However, town and city planners are increasingly realising that public places and urban spaces are most prosperous when they are designed around community-led initiatives. It boosts a community's spirit, develops a culture and drives the economy.
A big part of urban development is the role of street furniture. Well-designed furniture makes an urban space more sociable, inclusive, safer, and boosts communities. Benches provide functionality for people to sit, rest and socialise. Litter bins provide a place for refuse but importantly help keep outdoor areas clean. And now with the rise in smart urban furniture, it is only going to have a bigger impact on people's lives.
Why are we seeing changes in urban development?
One of the main reasons for the changes in urban development is the rising population within towns and cities. The European Commission state that 72% of the EU population lives in urban areas, a statistic that is ever-increasing.
As a result of this, Architects, Landscape Architects, Urban Designers, Council Planners and other construction professionals now collaborate with not-for-profit organisations and movements in designing better urban spaces.
Particularly, The Project for Public Spaces (PPS) was set up so community-based participation influenced the design of public places. Their initiative, called Placemaking, had the goal to strengthen the connection between the people and the place they share.
The Placemaking movement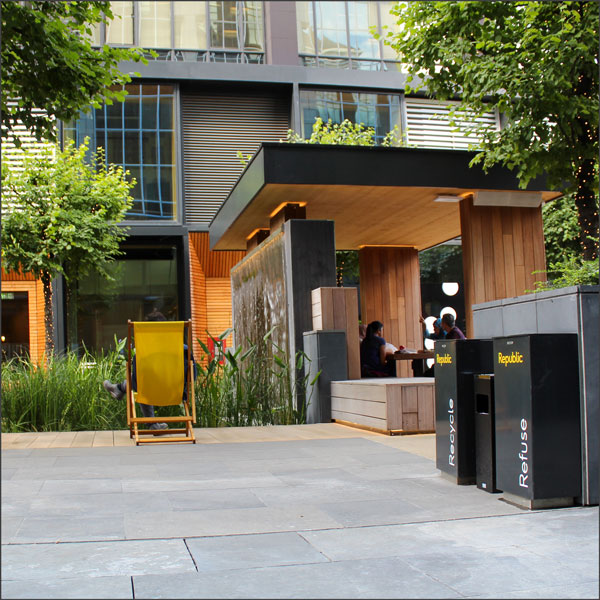 Part of Placemaking is listening to a community's collective vision, seeing what they want in their public space. They want an urban realm that harnesses community spirit, increases safety, helps their day-to-day lives, and increases convenience and accessibility.
Street furniture has a big role to play in the Placemaking movement. Landscape Architects, Town Planners and other Urban Designers appreciate the influence of urban furniture to local communities.
Aesthetically, well-designed furniture serves as an aspirational value to local people. In town and city centres, well-designed bespoke street furniture is a good way to inspire people and help them to feel good about their surroundings.
More urban furniture can be added to enhance the area. For example, planters can be designed and installed as a way to add greenery to help increase people's health and well-being. Litter and recycling bins can be installed which not only adds decoration but also helps to keep the local area clean.
Street furniture serves to create an 'experience' rather than just to look good and provide a functionality. It is integrated into urban realm, as a result of the Placemaking initiative, to enhance the lives of the people who use it.
This is particularly relevant with the rise of smart urban furniture. Smart benches now provide WIFI access and recharging points. Smart lighting now detects movement and alters its brightness for people who have vision impairment or low vision.
One of the true benefits of smart street furniture is that it can be easily adapted to local environments. For example in the London borough of Islington, smart benches were adapted for World Cancer Day so users had the option to donate two pounds via a contactless payment to Cancer Research UK.
What's next for the role of street furniture in the future of urban spaces?
The adoption of technology within street furniture is continuing to influence its role within the urban realm. As the world becomes a more connected society, street furniture will become much more multi-functional by offering an increasing array of digital services.
Smart street furniture is creating a digital network, collecting data and user trends which can then be used to enhance urban spaces of the future even further.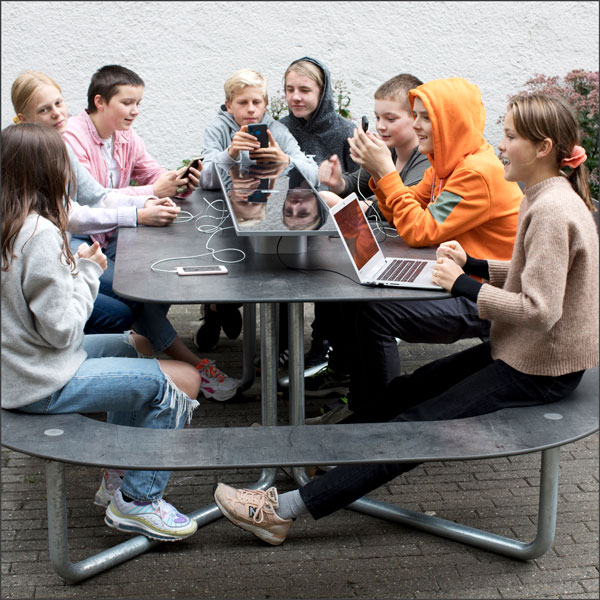 Bailey Street Furniture Group – inspiring urban furniture for the future 
Our vision is to transform and inspire urban spaces of the future through well-designed, highly functional urban furniture.
The group's unrivalled product range includes street furniture, shelters, canopies and walkways, bollards, and playground equipment. These are supplied through four key brands - Bailey Street Scene, Artform Urban Furniture, Street Furniture Direct and AMV Playgrounds.
For more information on the Bailey Street Furniture Group please contact their team on 01625 322888 or email enquiries@bsfg.co.uk. To view the company's range of high quality street furniture visit their website www.bsfg.co.uk
Part of the Bailey Street Furniture Group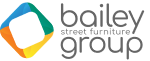 AMV Playground Solutions Ltd | Abbey Lane Enterprise Park | Abbey Lane, Burscough | Lancashire | L40 7SR
Tel: 01704 89 89 19 | sales@amvplaygrounds.co.uk
© AMV Playground Solutions Ltd 2023 - All images on the website are not to be copied or used without appropriate permissions.