How To Specify Outdoor Street Furniture That Blends Sustainability, Style And Durability
Posted on May 20, 2020

Choosing the correct materials is vital when designing and specifying outdoor furniture for the future. In light of our current global climate emergency, the process has become more crucial than ever. It is paramount to select materials that balance aesthetics, durability and sustainability that the environment quite rightly demands to be considered.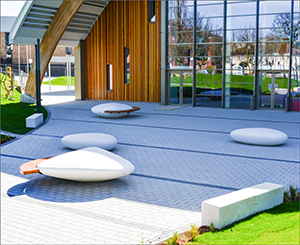 When considering materiality, it is imperative that the designer strikes the perfect balance between all of the above elements. Sustainable and eco-friendly design is currently one of the biggest and growing trends and is becoming increasingly incorporated into every aspect of our everyday lives. We now demand more from our office furniture, urban landscaping and street furniture. It is both a lifestyle choice and a way to protect our planet for years to come.
When considering sustainability within street furniture design it is important to minimise and where possible, avoid the depletion of the earth's natural and precious resources in order to maintain an ecological balance. To design and produce pieces that are eco-friendly and kinder to our planet, we have to consider how each piece is manufactured transported and delivered.
We must also consider recyclable and renewable materials, ones that replenish easily and abundantly such as wood, bamboo, and even mycelium may be considered in the future. In addition to carefully selected resources we must also consider natural finishing elements for products and their link to carbon emissions.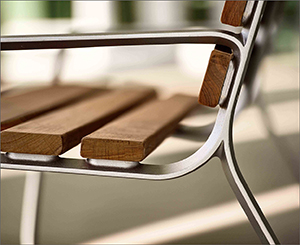 Some useful materials to consider include stainless steel, which offers many advantages even in unpredictable and harsh outdoor environments. It has excellent performance and longevity, works extremely well with surface finishes and powder coating. It is highly resistant to corrosion and most importantly is completely recyclable for a long and sustainable lifecycle. Another material is aluminium, again highly recyclable and with a significant recycled content. Successful again with powder coated finishes that improve weather resistance, allowing the furniture to cope with graffiti it also has a great track record for long term wear. Selecting high quality, well designed and well made products that last a lifetime is key. For example, UHPC (Ultra High Performance Concrete) can be cast into thin attractive profiles, that are both light and tough, able to withstand harsh weather conditions, whilst offering strength and durability.
The forecasted population growth in our cities make it necessary to design and adapt urban furniture in an environmental way, whilst simultaneously bringing vibrant and interesting solutions to our urban landscaping and communities. There are many social and emotional benefits of street design which come together when sustainability, design and function work seamlessly. Each piece of furniture needs to be more than an addition. Durability, form and function, now need to meet the increasing demand for responsibly sourced and sustainable pieces.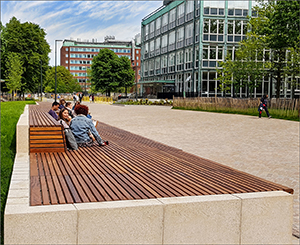 Both design and technology have come a long way and our 'traditional' park bench is no longer. Many outdoor areas feature a more modern look with furniture designed in steel, timber or concrete. Larger benches can now be multipurpose and can be used for gatherings or meetings. It is probable in the near future that such areas will include an internet connection. In the light of our current global pandemic many people from students to office workers may opt to work outside and to be more fluid. Social distancing, for now is vital and therefore the future will result in less people cramming into a cafeteria, office space and instead relocating to a healthier outdoor space. As working from home becomes our 'new normal' it is feasible that office workers will hot desk both inside and out.
Larger timber benches are multipurpose and can be used as tables, or gathering spaces for large groups. Benches can provide the perfect modern area for university students and staff to work at. They can be big enough to hold small outdoor meetings or work on group projects outdoors, at a safe sociable distance.
For more information on the Bailey Street Furniture Group please contact their team on 01625 322888 or email enquiries@bsfg.co.uk. To view the company's range of high quality street furniture visit their website www.bsfg.co.uk
Part of the Bailey Street Furniture Group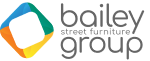 AMV Playground Solutions Ltd | Abbey Lane Enterprise Park | Abbey Lane, Burscough | Lancashire | L40 7SR
Tel: 01704 89 89 19 | sales@amvplaygrounds.co.uk
© AMV Playground Solutions Ltd 2023 - All images on the website are not to be copied or used without appropriate permissions.