Free exercise for the community
Posted on May 30, 2022

The cost of living crisis is at the forefront of everyone's minds. For those who may not be choosing between 'heating and eating' but do need to budget, giving up their expensive gym membership may be a necessity. So what's the solution to maintaining a healthy life and purse?
Over recent years local councils have been investing in our outdoor spaces. Many outdoor gyms have been installed near to children's playgrounds, which can encourage parents to use the equipment whilst their children play. Accessibility is key and price is usually our main barrier to regular exercise.
Outdoor gym spaces have been designed to provide low-impact exercise in an intuitive way. These spaces appeal to people who would normally struggle to find both time and money to join a gym, the ageing population for example is certain to benefit from the outdoor gym. The gym areas are perfect for a warm up with gentle cardio, you can mix the exercises with some upper and lower body strength exercises to keep your heart rate elevated. If you aim to go 3 or 4 times a week the health benefits will be measurable.
This outdoor gym apparatus is designed by AMV Playgrounds to improve and maintain physical fitness and health in teenagers and adults. Designed to imitate indoor gym equipment in providing a full workout, with the addition of being more robust and durable to last in the outdoor environment.
For more information on the Bailey Street Furniture Group please contact their team on 01625 322888 or email enquiries@bsfg.co.uk. To view the company's range of high quality street furniture visit their website www.bsfg.co.uk
Part of the Bailey Street Furniture Group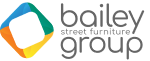 AMV Playground Solutions Ltd | Abbey Lane Enterprise Park | Abbey Lane, Burscough | Lancashire | L40 7SR
Tel: 01704 89 89 19 | sales@amvplaygrounds.co.uk
© AMV Playground Solutions Ltd 2023 - All images on the website are not to be copied or used without appropriate permissions.