Don't buy twice – buy better
Posted on January 16, 2023

Let's imagine you enjoy yomping the hills. You'll need a stout pair of walking boots. Now, you can pay anything from £25 for budget boots to well over £200 for a custom-fitted pair. If you're like most buyers, you'll opt for something low- to mid-range. Or you might even buy the cheap and cheerful boots. We forgive you. It's a tempting price.
You might be less tempted, though, when you look at the true cost of those boots, which you should measure in 'pounds per year'. You see, that budget pair might not even last through their first winter. The seams will come away and the eyelets will break. So that's £25/year.
You can expect the bespoke pair, though, to still be conquering new peaks 15 years down the line. Let's say you paid £250. That's around £16/year. And you'll have enjoyed a far more comfortable experience, with fully waterproof boots that don't give you bunions and ingrowing toenails. 
Cost of living
The age-old expression 'Buy cheap and you buy twice' is so true and it applies to every sector. With the cost of living now off the scale, it can pay us all to be more money-savvy. That includes government: the smart approach surely lies in sustainable, long-term investment rather than infrastructure that needs to be replaced every few years.
At The Bailey Group, that's our philosophy: delivering warranty-backed premium street furniture that lasts, such as Cyclepods cycle stands, Artform Urban Furniture and AMV Playgrounds equipment. Not least because of the environmental impact of constantly replacing flimsy products.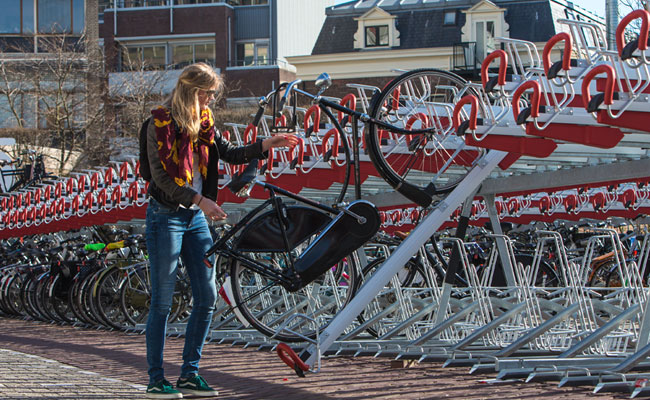 Cyclepods' Easylift Premium is the highest-selling two-tier cycle parking system in Europe. The gas-assisted lifting system lets users park their bikes on the top level effortlessly and also doubles parking capacity. It's an award-winning design that's guaranteed to outlast other products on the market. Installing Easylift Premium means:
Less noise and less strength needed to lift the bike

Long-lasting components with less maintenance needed over a long period

 

An end to 'wheel-bending' storage systems that hold only one wheel and invite easy bike theft.
On countless occasions, Cyclepods has installed Easylift Premium space-saving cycle parking in place of cheaper, two-tier racks that have fallen apart with use.
London Waterloo
One customer benefiting from double-decker cycle parking is London Waterloo. The rail hub needed to answer the enormous uptick in demand for cycling. Cyclepods designed a 330-space layout, which we installed smoothly to cater for commuters, cycling enthusiasts and tourists at our capital city's busiest railway station.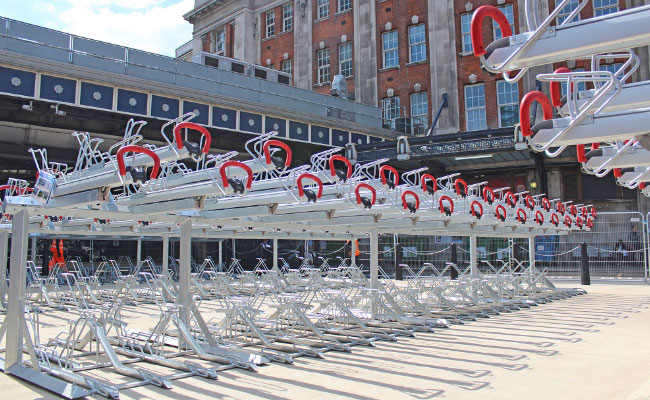 Exceptional materials
Our Artform Urban Furniture installations are built to live through the generations, while bringing to life the vision of landscape architects, designers and specifiers. We work with exceptional materials such as anodised aluminium, recycled plastic and sustainable hardwoods to fulfil the most imaginative of concepts.
Behind the installations are a professional team of world-class, forward-thinking designers with years of experience in this very demanding field. You can meet them here.
Artform Urban Furniture includes chairs, bench seating, tables, picnic sets, bus and cycle shelters, litter bins, lighting, cycle stands, planters, bollards, tree grilles, and wayfinding and outdoor fitness equipment.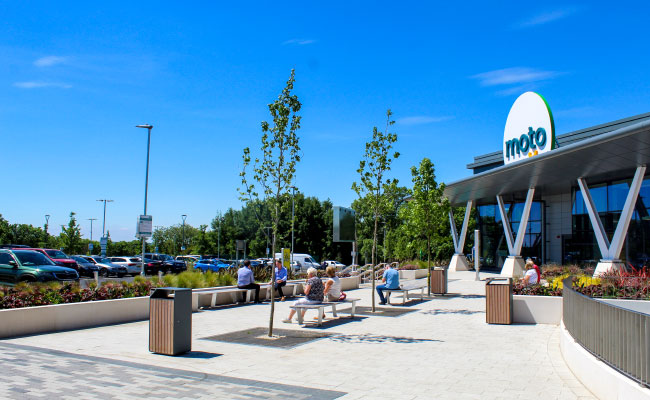 If you're ever around junction 1 of the M6 and in need of a coffee, or maybe some juice for your electric vehicle, you can experience one of our recent Artform installations at the Moto Rugby motorway services.
Contracting with Illman Young Landscape Design, we created a range of design-led street-furniture elements that include seating and litter bins.
Key to the installation is the Multiplicity Bench, featuring a cast-aluminium leg frame with hardwood seat and developed as part of a full range with celebrated design innovators Yves Behar and Fuseproject.
Elegance
Multiplicity offers an elegant solution thanks to its hidden fixing points that help prevent tampering and theft. In competitor product ranges, these can detract from the overall product design.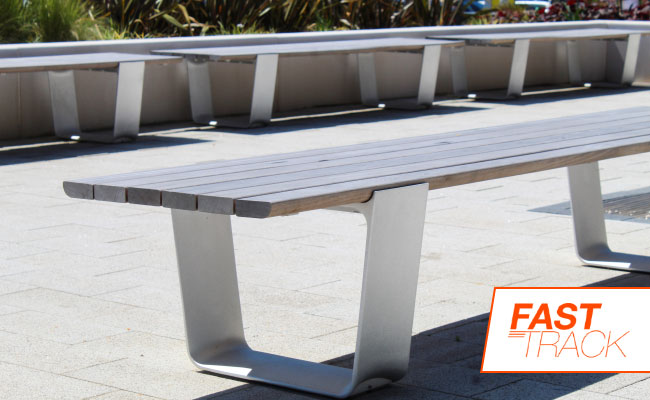 Multiplicity is part of Artform's Fast Track Collection, which is great for short lead times and can be delivered to site in as little as four weeks.
You'll also spot The Box Wood Litter Bin, which comes with a triangular ashtray fixture. It's an incredibly popular and versatile waste-disposal unit that we can customise with four different door styles. You'll see the hardwood-timber slats version at Moto Rugby, which complements the surrounding architecture.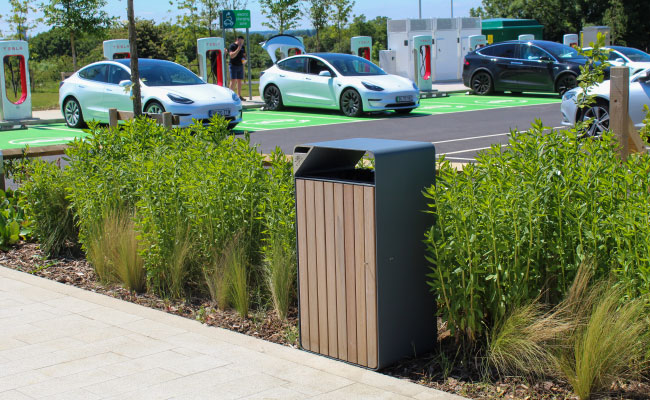 Artform furniture stands distinct from competitors thanks to a unique, advanced design and unrivalled manufacturing quality. With a dedicated project-management team, we offer a comprehensive service from concept to delivery and beyond.
Detail and craftsmanship
We've also brought our uncompromising attention to detail and craftsmanship to children's playgrounds through our trim trails products. AMV Playgrounds equipment offers long-term value in the shape of a 25-year warranty against rust and corrosion, and BS EN 1090 and ISO 9001 certification.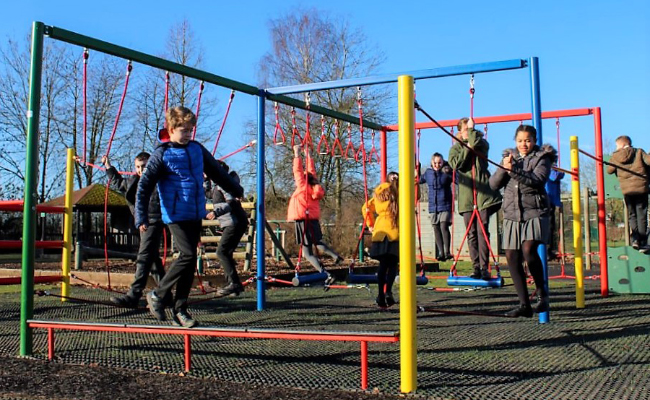 At Culcheth Community Primary School in Cheshire, head teacher Mrs Amanda Dodd was concerned about an unsafe wooden trim trail. She wanted to replace rather than repair the playground furniture to get longer use out of it and avoid ongoing maintenance costs.
The school council chose AMV from a number of options. They were swayed by our diverse design and product offering as well as good guarantees. We carried out a site survey, created a scaled layout drawing and designed a multicoloured custom AMV Cube Trail.
Exercise and problem-solving
The Culcheth playground furniture offers many activities in a small amount of space that encourage exercise and problem solving. These include traverse climbing walls, a balance beam, chin-up bars and rope-crossing challenges.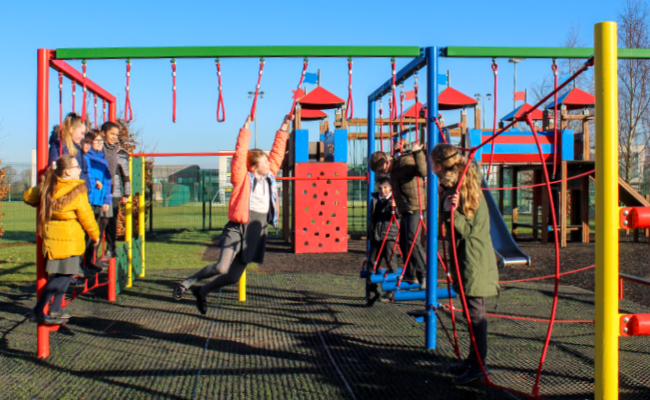 With a minimal frame design, we ensured high visibility throughout for children's safety. Finally, a vibrant powder-coated finish will guarantee years of fun for generations of children.
Mrs Dodd said, "The children absolutely love it. They have really been inspired to try a variety of different activities. They are quite creative in the way that they use the equipment. Because it is spread out, we have been able to have more children to play safely under the current [COVID] circumstances. It's absolutely brilliant equipment!"
Let's chat
Landscape architects, contractors, local authorities and construction firms throughout the UK have benefited from our unique take on external spaces. If you too understand the value of uncompromising quality, please call our team today for an initial chat on 01625 322 888 or email us here.
Part of the Bailey Street Furniture Group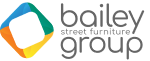 AMV Playground Solutions Ltd | Abbey Lane Enterprise Park | Abbey Lane, Burscough | Lancashire | L40 7SR
Tel: 01704 89 89 19 | sales@amvplaygrounds.co.uk
© AMV Playground Solutions Ltd 2023 - All images on the website are not to be copied or used without appropriate permissions.