BSFG Product Focus: Minipods & Scooterpods
Posted on October 24, 2022

Cycling or scootering to school is a great way to naturally build physical activity into your child's everyday life. Teachers often state that children who don't do the morning school run in the car are more relaxed and ready to start the day feeling alert. Cycling and scooting has of course many benefits including fitness and mental wellbeing.
School children today are spending almost 50% more time inside a car on the school run than their parents did. Riding a bike or scooting to school is a great opportunity for children to observe their local area, gain independence and get fit in the process.
Being prepared and making the start to the school day fun is important for younger children, and keeping them entertained on the journey with choosing an easy and interesting route is key.
The Minipod bike rack for schools is a great way to encourage children to cycle. It is a colourful, innovative and compact storage bike rack to welcome your child to school, it can secure up to 8 bikes and or scooters.

It has various options for mounting on soft grass or gravel, depending on positioning. There are also canopy and shelter coverings available so that your child can leave their bike or scooter happily in the knowledge that it is safe and secure.
Ideal for primary schools and nurseries, the MInipod comes in a fun variety of colours making it an attractive addition to the playground., black, red, yellow, blue, green, purple, stone effect, or even multicoloured for those children that like to mix it up!
Cleverly the Minipod is also space-saving and can be configured in halves against a wall or on portable mats and bases. It is less than 1.5m in diameter so perfect for a small playground or entrance.
The Minipod can hold all types of scooters and bikes up to a 26 inch wheel, mainly for children up to 11 years of age but we have spotted the odd teacher's bike!. The product is made from 100% recyclable MDPE plastic with the securing arms being recycled grade stainless steel.
Our products are perfect for various learning environments, the scooter pod is vibrant in colour and unique in design. The pods encourage safe and sustainable travel to school, and children can learn independence with the easy-to-use locking points when they arrive.

The Scooterpod is designed to fit all types of children's scooters and can be configured in many different ways to fit your space and needs. There are round and linear segments that can be mixed and matched to provide anywhere from 11 to 100 spaces!
Similarly to the Minipods all versions of the scooter pod can be mounted on a freestanding base or bolted to concrete or tarmac.
If you are not prepared to leave it up to the kids then Cyclepods have a team of experienced designers who can help with planning your cycle storage to ensure space efficiency and maximum usage. Our in-house installation team will ensure our products are installed safely, securely and will always consider the environment they are in.
Cyclepods is part of the Bailey Street Furniture Group a privately owned collection of individual companies serving the construction sector, providing a wide range of street furniture, playground elements and associated services to the public realm, commercial and educational schemes throughout the UK.
For more information on the Bailey Street Furniture Group please contact their team on 01625 322888 , enquiries@bsfg.co.uk or visit www.bsfg.co.uk 
Part of the Bailey Street Furniture Group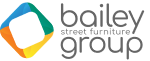 AMV Playground Solutions Ltd | Abbey Lane Enterprise Park | Abbey Lane, Burscough | Lancashire | L40 7SR
Tel: 01704 89 89 19 | sales@amvplaygrounds.co.uk
© AMV Playground Solutions Ltd 2023 - All images on the website are not to be copied or used without appropriate permissions.