Air Pollution Kills: One Simple Change Can Combat It
Posted on December 13, 2021

Currently cars account for the majority of our transport emissions here in the UK and car reliance continues to rise, electric cars will of course have a huge impact on these figures but waiting for the change will take decades. Cycling is a change that can happen now.
Cycling has many other benefits too. Cutting congestion is important. Health is a factor. As our sedentary lives seduce us further and further away from a healthy lifestyle, cycling can improve not only our health but increase life expectancy and in turn benefit the environment and the economy.
Cycling is a cheap, confident way to transport ourselves. It's green and enjoyable!
Air pollution is estimated to cause approximately 110 premature deaths a day. NO2 (Nitrogen Dioxide) levels in the UK have been at illegal levels in urban areas for over a decade now. The volume of car usage has a direct impact on the levels of NO2, so why aren't city dwellers leaving their cars at home? Traffic accounts for about 80% of nitrogen oxide emissions so the benefits of using your bike are clear.
As cycling is a fast-growing method of transportation, there is a real need for outdoor spaces to provide facilities that ensure security for bike owners.
We have a wide selection of cycle stands and racks for a wide range of applications.
From stainless and galvanised steel to powder coated designs – as attractive as they are functional – our cycle stands offer the user safety and security, whilst enhancing the landscape and architecture of any space.
The personal health benefits of cycling have long been recognised but cycling also benefits the environment by reducing car numbers, cutting down on congestion and improving air quality. By providing cycle stands in schools, offices, town centres and other public spaces you are encouraging people to use their bicycles by giving them a secure place to store them.
By installing cycle stands, you will be offering the necessary facilities so that employees, students, parents, shoppers and other users and visitors can make use of a cost-effective method of transportation. It also encourages people to get outdoors during good weather and to make use of public spaces. That's why our cycle stands deliver!
If you can't find anything that matches your requirements, get in touch for something designed to fit your space. Our experienced in-house design specialists are on hand to craft the perfect bespoke solution for your needs. We can provide a full package from design to installation 
AMV Playgrounds is part of the Bailey Street Furniture Group, a privately owned collection of individual companies serving the construction sector, providing a wide range of street furniture, playground elements and associated services to the public realm, commercial and educational schemes throughout the UK. Find out more by visiting the BSFG Website.
Part of the Bailey Street Furniture Group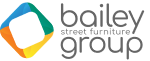 AMV Playground Solutions Ltd | Abbey Lane Enterprise Park | Abbey Lane, Burscough | Lancashire | L40 7SR
Tel: 01704 89 89 19 | sales@amvplaygrounds.co.uk
© AMV Playground Solutions Ltd 2023 - All images on the website are not to be copied or used without appropriate permissions.