A contemporary work of art or engineered fitness?
Posted on May 17, 2022

The most popular fitness trend of 2021 was outdoor exercise with almost 60% of adults choosing the outdoors as their primary way to stay fit. 40% of gym members swapped the mirrors for the park and the home fitness market grew by almost 50%.
Movement is intrinsically linked to our humanity and the power of nature has been recognised for centuries, the importance of fresh air and the great outdoors has never been more apparent.
More and more people across the UK are embracing body weight training in order to maximise strength and boost cardiovascular fitness.
Artform Urban Furniture are the exclusive UK partners in promoting the My Equilibria & My Beast range of unique, innovative, and truly class leading outdoor fitness systems.
Engineered around biomechanics of instinctive training and inspired by nature, My Equilibria features the same attention to detail, style and technological sophistication you would expect from a contemporary work of art. Designed by Vito Di Bari, MyEquilibria strives to shape the future of outdoor wellness and challenge every convention around fitness equipment.
Manufactured using innovative ultra-high-performance concrete, the smooth surfaces seamlessly meet stainless steel components, guaranteeing maximum stability, safety, and performance, whilst delivering a stunning centrepiece to your development.
In the UK alone 11.7 million working days are lost annually due to stress, depression, or anxiety. Outdoor exercise is proven to lower both of these. Working out outside also burns 10% more calories than indoor exercise, and scores higher in psychological tests that measure vitality and energy.
For more information on the Bailey Street Furniture Group please contact their team on 01625 322888 or email enquiries@bsfg.co.uk. To view the company's range of high quality street furniture visit their website www.bsfg.co.uk
Part of the Bailey Street Furniture Group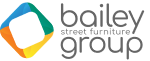 AMV Playground Solutions Ltd | Abbey Lane Enterprise Park | Abbey Lane, Burscough | Lancashire | L40 7SR
Tel: 01704 89 89 19 | sales@amvplaygrounds.co.uk
© AMV Playground Solutions Ltd 2023 - All images on the website are not to be copied or used without appropriate permissions.