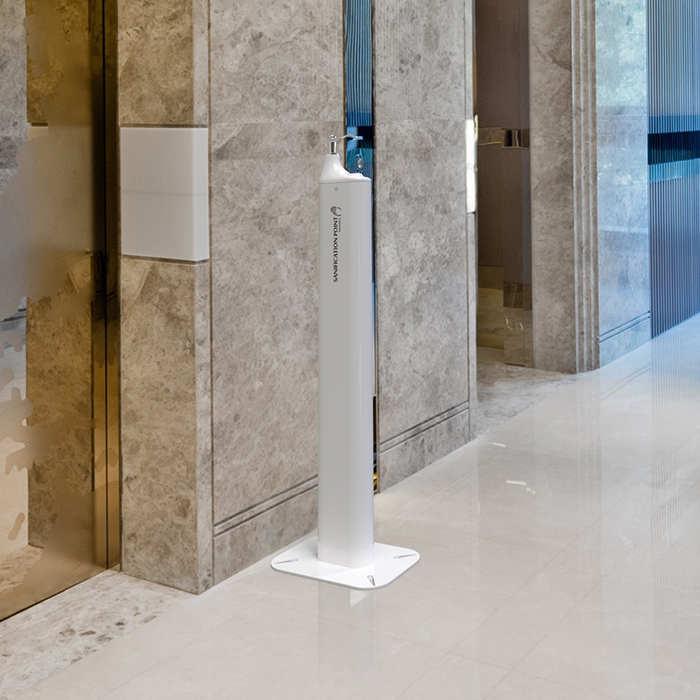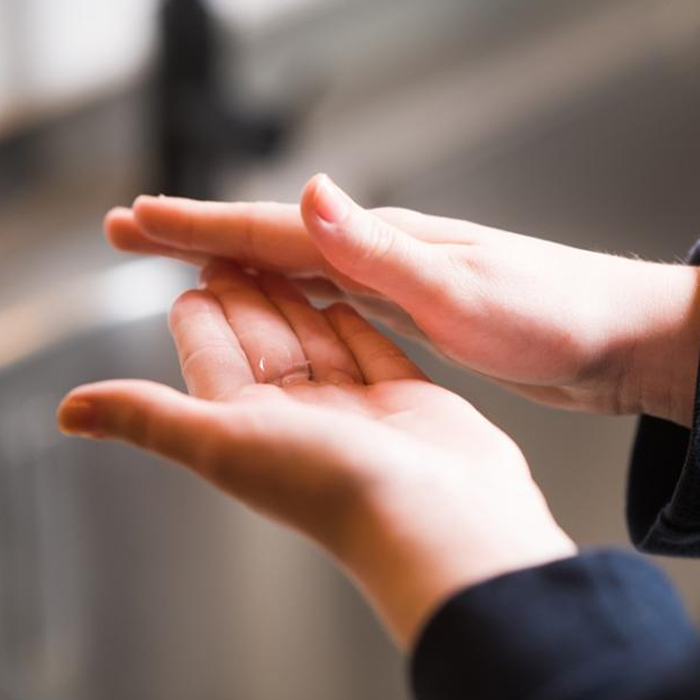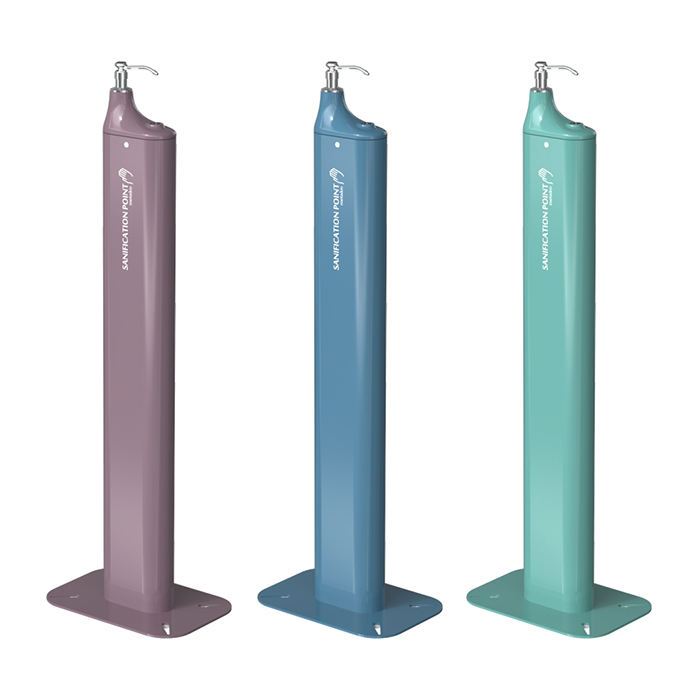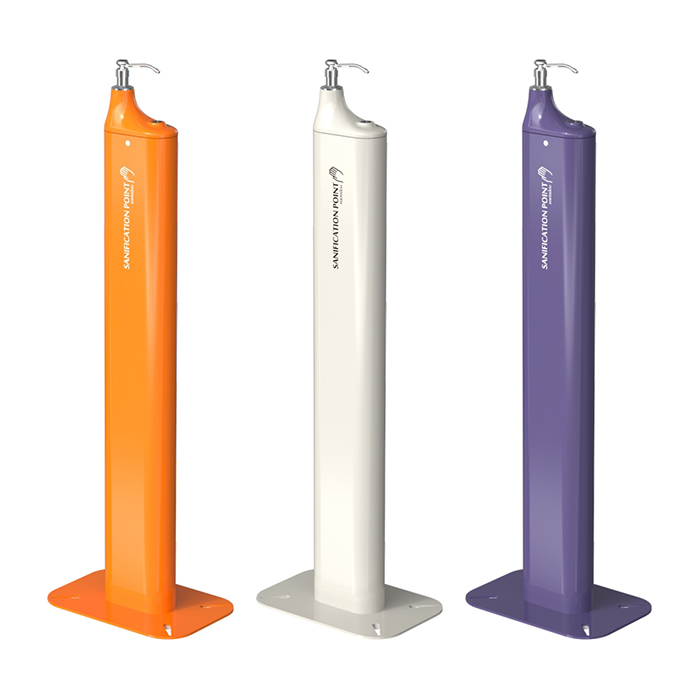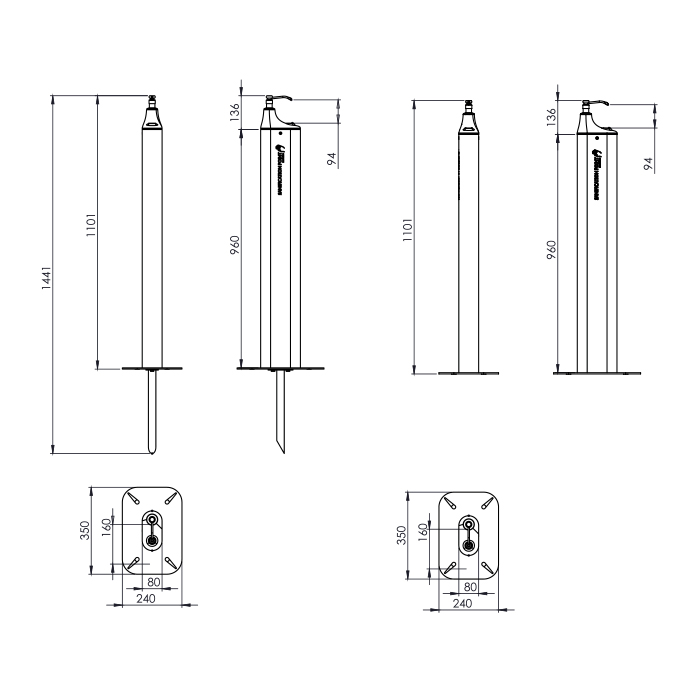 Description
Sanitisation Point CABRAL is a hand sanitisation station for crowded places both indoors and outdoors. 
Providing adequate hand sanitiser for busy public and private places such as hotels, amusements, healthcare centres, parks, gyms, can be difficult due to overcrowding and environmental conditions.
For this purpose, CABRAL has been created: available in two versions, one for indoors and one for outdoors. Thanks to its unique design, it can be installed in every context, providing an essential sanitiser facility.
CABRAL is available in 10 standard colours with white or black "Sanitisation Point" pad printing, placed only on one side. It is possible to customise the other lateral side with stickers upon request.
It comes with an aluminium internal profile and insulating material, to offer further protection to the sanitiser.
CABRAL is equipped with a base plate: it can either be simply positioned on the floor or, if securing and stability is needed, the pre-drilled holes on the base allow fixing through dowels. An accessory for implantation on soft soils, such as sand, is available.
In case of outdoor installation with strong and prolonged sun exposure, it is recommended to place CABRAL sheltered from direct sunlight.
Dispensing spout with chromed finish.
Images are purely indicative, it can vary according to availability.
Materials
Indoor Version: powder coated aluminium with base plate
outdoor Version: powder coated aluminium with base plate and internal profile for insulating
Dispensing spout: chromed finish
Dimensions
H:1135mm
D: 350mm
L: 250mm
Capacity: 10L
---
Great job. Workmen were efficient and considerate. The children and parents really love the equipment.
K Coghlen (Assistant Headteacher)
Richmond Primary School
From start to finish, a first class team and product. We are delighted, the yard looks beautiful and our children are happier and fitter than ever before!
Alan Baker (Deputy Headteacher)
St Margaret's Primary School
The play equipment has provided the children with a valuable outside resource for free play at lunch & break times and has also improved behaviour.
We would be happy to recommend your company to others.
Eileen Denton (Headteacher)
Bligh Infants School
A very professional job, completed to time, to quality and to budget.
Simon Walmsley (Finance Manager)
Testbourne Community School
I should like to commend the quality of the equipment and the ease with which it was installed. The team who were responsible for the installation worked hard and were aware of how to behave on school premises and the health & safety requirements.
Margaret McCulloch (Headteacher)
St Paul's C of E Junior School
I would just like to take this opportunity to thank you and your team for all your help and assistance over the last 12 months.
I cannot recommend your company highly enough.
Sam Batten (Community Facilities Manager)
Caterham High School
---