NATURE PLAY
Nature is everywhere yet playing outdoors and in nature is becoming increasingly uncommon. Nature Play improves cognitive ability as well as boosting the immune system. Get children digging in the ground using their hands, getting dirty and investigating their surroundings. Early Years children need to have tactile stimulation and there is no better form than getting messy in a mud kitchen or getting a closer look at creepy crawlies.
Part of the Bailey Street Furniture Group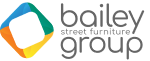 AMV Playground Solutions Ltd | Abbey Lane Enterprise Park | Abbey Lane, Burscough | Lancashire | L40 7SR
Tel: 01704 89 89 19 | sales@amvplaygrounds.co.uk
© AMV Playground Solutions Ltd 2022 - All images on the website are not to be copied or used without appropriate permissions.