ACTIVE PLAY
Active Play is any activity that uses a lot of energy that increases the heart rate and respiration. Physical activities can be moderate to intense and can be attained via various pursuits. AMV have created a range of products that make it easy for children get their heart beating faster and their breathing to escalate. Children can gain many skills from our traverse climbing walls and our clamber stacks, not only increasing their general fitness levels but also improving their coordination, balance, motor skills and their ability to have fun. Not sure what you can fit into the space on your playground of field? Contact the team for a free site survey to measure up and get you the most out of your money.
Part of the Bailey Street Furniture Group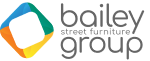 AMV Playground Solutions Ltd | Abbey Lane Enterprise Park | Abbey Lane, Burscough | Lancashire | L40 7SR
Tel: 01704 89 89 19 | sales@amvplaygrounds.co.uk
© AMV Playground Solutions Ltd 2022 - All images on the website are not to be copied or used without appropriate permissions.